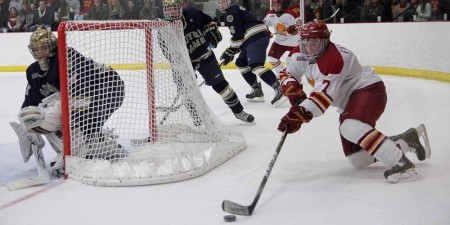 With a conference switch looming, Ferris State University students are eager to give their opinion on the future of the FSU men's ice hockey team.
The new WCHA (Western Conference Hockey Association) extended an invitation to FSU to join the conference beginning in the 2013-14 season. By accepting, FSU will be leaving the CCHA (Central Collegiate Hockey Association).
But what does the switch mean for fans?
The University of Michigan, Michigan State University, University of Notre Dame and Ohio State University will no longer be on the conference slate for FSU. By no longer hosting these teams, hockey fans will have to go without, what has in the past been, the most highly anticipated games of the season.
Sophomore season ticket holder Eric Reimer is displeased with the new schedule.
"Wow, I didn't realize that Ferris was switching conferences," Reimer said. "This is going to get rid of my most favorite games on the schedule, without Michigan and Michigan State, what games are there to look forward to?"
Freshman Kyle McKenna hopes FSU will make an effort to reschedule the games as non-league contests.
"I'm buying season tickets for this season, just to see what the hockey games are really like," freshman Kyle McKenna said. "I was a big Michigan State fan growing up and really look forward to playing them."
For hardcore fans, the conference switch won't affect how many games they attend. However, freshman Christina Cordy thinks dropping big name schools from the schedule will affect overall attendance.
"I love hockey, so I'll be at all the games I can, but given the option of playing Michigan or Bemidji State, it's pretty obvious who everyone will choose to go watch," Cordy said.
Radio and television announcer for the FSU hockey team Dominic Henning agreed with Cordy.
"People tend to look at the team names over the level of competition," Henning said. "Last year when we played Alaska, both teams were nationally ranked and it was a huge in-conference game, but the stadium was half full. There's a big difference in attendance when a bigger name college comes in."
The future is not all that bleak. This year holds a record number of season ticket holders. What has to be done to make sure spectators are in the stands?
"We're definitely going to need to step it up with marketing to get kids to keep coming back," Henning said. "We have a chance to be one of the few teams to ever win both the CCHA and the WCHA."