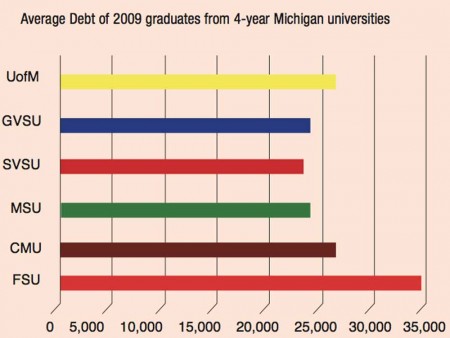 According to a report from Projectonstudentdebt.org, Ferris State University is one of the four-year public institutions in Michigan to have the highest average debt among graduates as of 2009.
The average debt of a 2009 Ferris graduate is $34, 767 with a total of 76 percent of students leaving with debt. Two Ferris graduates discussed their amount of debt and what steps they recommend for current and future students to take to avoid as much debt as possible.
Brandon Martinez, a 2010 graduate in new media printing and publishing, said he left Ferris with around $43,000 in total student loan debt.
"About half of that was from housing, the other half from tuition, give or take," said Martinez.
Martinez' loans are set to be completely paid within a ten-year period, but he is hoping to get them paid off within five years by using income tax returns, chunks of savings and making slightly larger payments.
Jim Connors, a 2011 graduate in chemistry, said he is still in his grace period, but has approximately $60,000 in loans to pay back.
"Depending on how much I am able to pay monthly, I am anticipating paying off my loans in about ten years' time – hopefully sooner if I can manage larger payments every now and again," said Connors.
Connors and Martinez indicate there are measures students can take to decrease their debt percentage. Both of them agree that applying for scholarships is beneficial and crucial.
"There are, literally, hundreds of random scholarships available to the most unique individuals, such as a $10,000 scholarship to someone who went to prom wearing a duct-tape dress or a duct-tape tuxedo," said Connors.
Connors said he found similar scholarships on Fastweb.com, a website that allows college students to sign up for a free account and qualify for numerous scholarships based on a profile.
"The more you apply, the more opportunities you have," said Connors.
Martinez said applying for scholarships is an obvious way to get assistance and that figuring out living arrangements can help.
"It's bad enough that we pay so much in tuition, but living costs are tough, especially when you can't get a full-time job because you are in school – and now that getting a bridge card is even more difficult, money now has to be allocated to food as well as living expenses," said Martinez.
Currently, housing rates for the 2011-2012 academic year can cost anywhere from $4,327-$4,672 per semester, which is $8,744-$9,344 for the year, which generally includes a meal plan.
Martinez urges students to look into getting a job if they can and live off campus.
"If I had to do anything over again, it would have to be better planning when it came to housing. If I remember correctly, it was almost $900 a month for me to live on campus. Granted, I was in married housing," said Martinez.
Connors also said to take community college classes whenever possible and to make sure they are transferable to a university. He also said sacrifices may have to be made in order to get a job to help pay for college and other expenses.
"Don't be scared to work for a living," said Connors.
The Torch attempted to contact Ferris' financial aid office to obtain data and information on student loans and debt, but did not respond prior to press time.