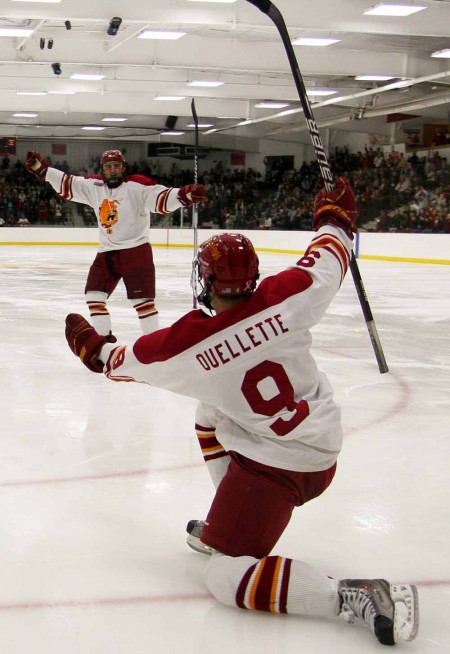 With an electrifying home crowd behind the Ferris State University ice hockey team, the Bulldogs swept the Rensselaer Polytechnic Institute Engineers in a two-game series this weekend.
FSU took the ice against the nationally 20th-ranked RPI Engineers before 2,159 fans in its season home opener Friday evening at Ewigleben Ice Arena.
Entering the contest with a defensive mindset, the Bulldogs held the Engineers to just 17 total shots on goal en route to topping RPI 4-0. Senior goaltender Taylor Nelson recorded his second victory of the season as he made 17 saves on the night.
"Anytime you have a low number of shots, it's a team thing," Nelson said. "The goaltender gets a little bit of credit, but you've got to look from the forwards to the defense. It takes a full team effort."
The Engineers' defense lasted until late in the second period when junior center Travis Ouellette tallied the first goal of the game for the Bulldogs.
"When Ferris scored their first goal the place was going crazy," freshman criminal justice major David Turner said.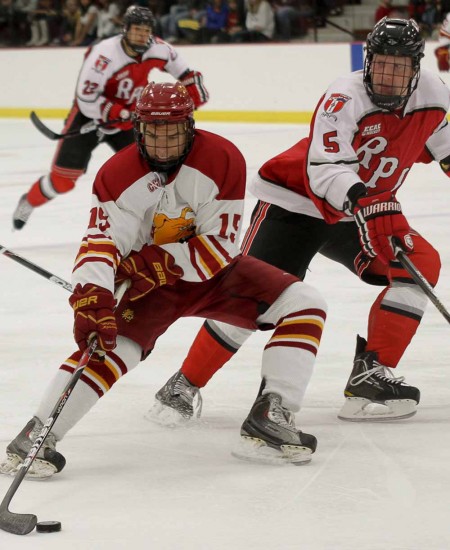 Also scoring for the Bulldogs were forward freshman TJ Schlueter and junior left wing Kyle Bonis. Bonis scored twice for FSU.
The Bulldogs outshot RPI 30-17 and went one-of-seven on the power play. The penalty kill unit halted all five of the Engineers' power play opportunities.
"We're getting in shot lanes and knocking pucks down," Nelson said.
On Saturday, the Bulldogs once again faced off against RPI, and once again FSU shut out the visiting Engineers.
Freshman goaltender CJ Motte earned the shutout as the Bulldogs defeated RPI 2-0 to improve to 4-0 on the season. Motte recorded his first collegiate shutout as he rejected 26 shots.
Freshman forward Nate Milam scored 55 seconds into the contest. Milam's first collegiate goal was unassisted on an even-strength play. He picked the puck off an Engineer player in the neutral zone before shooting past the RPI goaltender from the outside circle.
With only eight seconds left in regulation, sophomore forward Garrett Thompson lit the lamp on an unassisted empty net goal to give the contest its final score.
FSU will look to protect its undefeated status as it hosts nationally fifth-ranked conference foe Miami (Ohio) University Oct. 21 and 22 in the first conference action of the season.
"I can't wait for the rest of the season," sophomore mechanical engineering major Ryan Cordes said. "I have a feeling this team is going to be good."