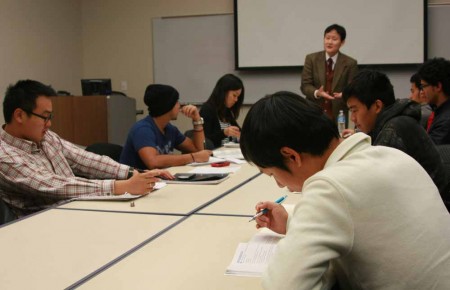 The Office of International Education is helping Ferris become more diverse and enriching the lives of students such as Solomon Okiotorhoro.
Okiotorhoro is an international student from Nigeria who arrived at FSU six months ago. He is studying mechanical engineering and has high hopes for his future.
Coming from Nigeria, Okiotorhoro is already relatively fluent in English. However, when he first arrived at his new home in Big Rapids, many people had a difficult time understanding his words.
"Back home [in Nigeria] I took English, but it was a different form of it. The accents are just different," Okiotorhoro said. "When I first got here, when I spoke to people they could not understand what I was trying to say because of the way I sounded."
Although Okiotorhoro has faced a number of challenges coming from a different country, there have been positive experiences for him as well. The one thing that has surprised him the most is how nice the people are in Big Rapids.
"Once back at home, I was looking for a CD to buy and I was asked to leave the store because I was staring at the CDs for too long. Here, people are a lot nicer," Okiotorhoro said.
He added, "When you want to buy something from a store, they treat you more kindly than they do at home. I have just met so many nice people here."
Included in the people who strive to help international students are those of the International Education Office, he added.
According to Dr. Piram Prakasam, director of the Office of International Education, the office is working very hard with organizations around campus to get a more diverse group of people involved with helping students adapt.
"The International Office pairs up with different departments and offices around campus to present different opportunities for students," Prakasam said. "We want them to learn from one another. That's why we work so closely with many places."
At the beginning of October, the Office of International Education put on the International Education Week. This week-long event offered things such as guest speakers, video presentations, the study abroad fair, and the Eve of Nations Dinner event.
It was a time for the office to talk about all of the services offered, as well as showcase where the international students are from and what is special to them.
FSU currently has 235 international students from 40 different countries–the increase being about 75 percent since spring 2010. Saudi Arabia, Canada, China, India, and Nigeria have the highest number of students studying at Ferris.
"Our hope is to increase to 600 international students and our goals are to globalize the campus and to support globalizing our curriculum," Prakasam said.