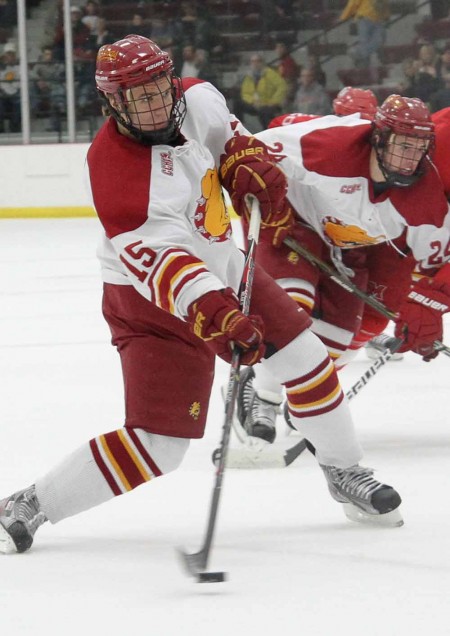 Two top-ten nationally ranked teams fought one another to see which deserved their rank as they racked up several penalty minutes in a series showdown between the Bulldogs and Michigan Wolverines.
In the first game of the series, the nationally sixth-ranked Bulldogs challenged nationally fourth-ranked Michigan Oct. 27 only to suffer their first loss of the season 5-2. Ferris lost even though the Bulldogs held a slim 30-28 advantage in shots on goal.
"It's always disappointing when you lose, but it's early in the season. So we'll use this as a learning experience," senior forward Tommy Hill said. "We weren't playing Ferris State hockey. When we try to play another teams game, it doesn't work well."
The Bulldogs registered five penalties in the match, which Michigan took advantage of on two of the penalties. Ferris finished two-of-three on their power-play opportunities.
In the series finale, the Bulldogs registered 24 shots on goal, but the Wolverines goaltender Shawn Hunwick was unwavering in the final game, blanking the Bulldogs for a 4-0 victory.
Ferris hit the post five times in the series finale. Junior left wing Kyle Bonis said the team had plenty of opportunities, but they just weren't making it into the net.
"It was 4-0 but it could have very easily been 5-4 us. They were finishing and we weren't," Bonis said.
The Bulldogs were called for eight penalties totaling 19 minutes spent in the penalty box. Michigan had 10 penalties in the match-up, totaling 23 minutes of penalty time. Neither team could convert with an extra-man advantage.
"We realized that even though we're ranked so high, that doesn't mean we're entitled to anything," Bonis said. "It's important to finish chances when you get them because they're so hard to get in this league."
Bonis acknowledged that if the Bulldogs want to have a shot at winning the CCHA tournament then the team to beat would be Michigan.
These two teams will not meet again during the regular season and instead will have to wait until the Central Collegiate Hockey Association Tournament for a chance to face off against one another.
The nationally 6th-ranked Bulldogs' overall record is now 6-2-0, while they are 2-2-0 in league action.
The Bulldogs want to apply the lesson they learned in the losses against Michigan to their upcoming series with the Bowling Green Falcons, Hill said. Bowling Green is 1-3-0 in the CCHA and 4-3-1 overall.
The Bulldogs will face CCHA foe Bowling Green Nov.4-5 in Bowling Green, Ohio. Both nights the puck will drop at 7:05 p.m.