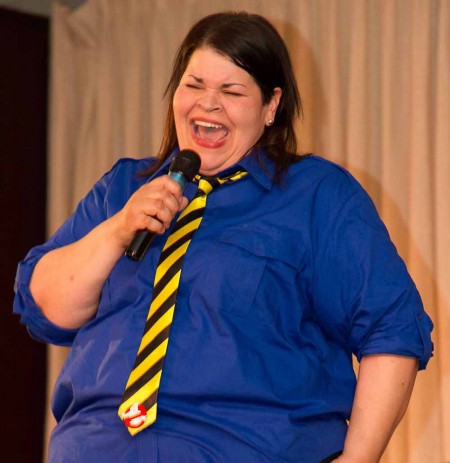 Comedian Jen Kober rocked an audience of over 200 students with her performance in FSU's Rankin Dome room.
Taking the stage at 8 p.m., Kober performed an hour-long stand-up routine of southern-style, hard-hitting comedy.
"I'm not just here to make you laugh; I'm here to heal your pain," Kober said.
Kober addressed a number of topics including sex, traveling across the country, race and her views on gaining weight. Kober even addressed audience hecklers who referenced hurricane Katrina, putting up her middle finger and daring them to challenge her routine.
Ferris State criminal justice student Rebecca Frost said she enjoyed Kober's uncut approach to stand-up.
"It was amazing. She kept me laughing the whole time," Frost said. "She was just real and didn't hold herself back."
Educated at Chicago's Theatre School of DuPaul University, Kober is originally from Lake Charles, LA. Her unique blend of music, story-telling and audience interaction kept students like Zach Cheeseman laughing in their seats.
"There wasn't a single thing she was afraid to hit on like race or where you are from," Cheeseman said.
Electronic engineering technology major Peter Diep came to the event with his suitemate. He said his favorite joke of the night was Kobers "I'm not big, I'm hard to kidnap" joke.
"It was hilarious. She knew just how to interact with the audience," Diep said.
For Ferris students who may have been offended by Kobers explicit stand-up and "skinny bitch" reference, Kober jokingly said, "it's a comedy show. You should leave here feeling better than you did when you came in."
Previous to her appearance at FSU Nov. 3, Kober has appeared on ABC's "Happy Endings." She will also be in the 2012 American Pie Reunion film.
Kober's next stops on her comedy tour will be the Comedy Store in Hollywood, CA and Luna Live in Lake Charles, LA.