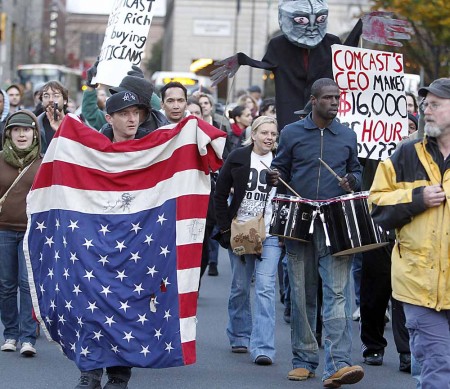 The nationwide movement known as Occupy Wall Street has been growing since it started in September.
Occupy Wall Street has been defined as a "leaderless resistance movement with people of many colors, genders and political persuasions." The commonality between all supporters of the movement is they consider themselves as the 99 percent that will no longer tolerate the greed and corruption of the 1 percent," according to occupywallst.org.
The movement has spread to cities all over the country, including Grand Rapids. Facebook pages such as "Occupy Wall St.," "Occupy Michigan" and "Occupy Grand Rapids" have been created to raise awareness of the movement.
Occupy Wall Street has spread to college campuses across the nation as well. An article from the New York Times reported that tents recently went up at Harvard in Cambridge, Mass., and at the University of California at Berkeley, student protesters said they have "vowed" to occupy dozens of other campuses in coming days.
Dr. Donald Roy, associate professor of political science, said Occupy Wall Street is a populist movement.
"Populists are against something big and controlling, and so the tea party is against big government, and these people are against big banks and corporations," Roy said.
Roy said movements like this give people a chance to choose between Occupy Wall Street and the Tea Party movement, which is currently going on all over the country.
"It's kind of a delayed reaction to this global financial meltdown, which we could argue started on Wall Street," Roy said.
Some Ferris students support the movement and some oppose it.
"I 100 percent support the movement. We're in one of the worst recessions in a long time and I think that it's our job as the '99 percent' to have a voice a take some control. I think that the Occupy Wall Street movement is fantastic," LaBreonna Stori, a senior in health care administration said.
Nate Kunnen, a junior in professional tennis management, does not support the movement.
"Us demanding so much from our government is what got us here in the first place. Yes, corporations are greedy, but so is everyone else. Government should give us equal opportunity, not equal conditions," Kunnen said.
Anthony Godinez, a junior in welding engineering, said, "I definitely do not support Occupy Wall Street. Our country is so great because of the way it has been governed for hundreds of years. Our financial district is the pinnacle. We as Americans have the ability to make as much money as we want to."
Jordan White, a junior in facility management, said he is really split about the Occupy Wall Street movement.
"On one hand, you've got the individual who is doing what they have to to survive. On the other, you've got the government trying to keep the economy afloat by giving all these tax breaks to big businesses. I do understand the frustration with how the CEOs handle the breaks they're given," White said.
Roy said a lot of this movement has to do with jobs as corporations and banks continue to make a lot of money and lay off people.
He said the one percent is the millionaires on Wall Street, and the 99 percent is the rest of the country.
"They aren't creating jobs; it's pretty bad out there for a student graduating or about to graduate," Roy said.
Roy also said, "This is democracy in action, and students should pay attention to it and decide for themselves. They're (Occupy Wall Street and the Tea Party) both movements. We have a long history of this too; this is just not something contemporary."