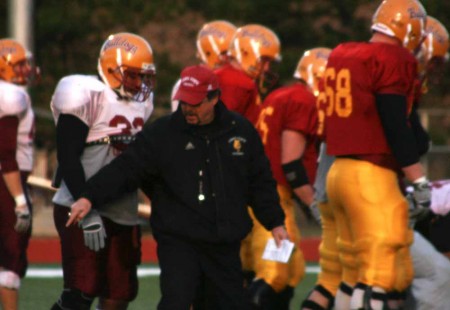 Ferris State University Athletic Director Perk Weisenburger announced Nov. 30 that, after 17 years at the helm for the Bulldog football program, Jeff Pierce has been released from his duties as head coach.
"After evaluating our program over the past two seasons, it became apparent that it is time for a change," Weisenburger said. "In order to promote the future success of our football program, new leadership is needed."
As of Dec. 1, Pierce would no longer be the Bulldogs' head coach. According to Weisenburger, a national search for Pierce's successor will begin immediately. FSU assistant coach Chris Boden will serve as interim head coach until a successor is named.
Senior quarterback Tom Schneider said Weisenburger, Pierce and the FSU coaching staff called a meeting early Wednesday to break the news to the team before it was released to the public.
"He [Weisenburger] said the program needed to change. He said it needed a spark," Schneider said. "It's a business. Unfortunately, we haven't been as successful as we'd like the last 10 years."
Redshirt freshman running back Jamaal Jackson said the team was "shocked" by Pierce's firing.
"It was a shock to me because the program has gradually been getting better over the past few years," Jackson said. "He [Pierce] has been here for so long. I thought his job was pretty cemented."
The football team's meeting with the athletic director and coaching staff was brief, according to Schneider and Jackson. Pierce addressed the players first and personally informed them of his dismissal.
"It was really tough for him," Schneider said. "He said it was a shock to him. He said he'd miss us."
Pierce began his coaching career at FSU in 1983 as a graduate assistant under Nick Coso after playing defensive back for the Bulldogs from 1974-77. He later coached the linebackers under Dan Underwood and continued on with Keith Otterbein's staff before being promoted to defensive coordinator in 1988.
In 1995, Pierce took over the program following the departure of Otterbein. Since his inception as head coach, the Bulldogs only qualified for the playoffs in the 1996 season. In addition, FSU claimed the last of three conference titles (won or shared) under Pierce's direction in 1999.
Despite losing four of their last six games, the Bulldogs' 6-5 record in 2011 marked the program's first winning season since 2008. In 2010, FSU finished with a 5-6 record after losing the final five games of the season. The previous season, the Bulldogs won just a single game to end with a 1-10 campaign mark in 2009.
Regardless of the records, Schneider said he was sad to see Pierce go.
"He gave his whole life to the program," Schneider said.
"I thought Coach Pierce was a great man, a genuine guy. He's done a lot for me personally and a lot for other guys." Jackson agreed. "I like Coach Pierce. He's one of the main reasons I came here. I'm sad he's leaving. He gave us his heart. He put his all into the program."
Neither Jackson nor Schneider was eager to discuss whether or not Pierce's dismissal was the right move for the football program.
"I don't make any speculations on the coaching staff," Schneider said. "It's up to the team to accept the leadership that is given to them and move forward. That's the
reality of it."