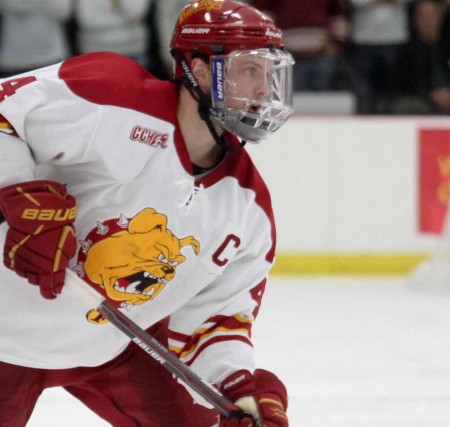 Chad Billins
Senior
FSU Ice Hockey
Marysville/Waterloo (USHL)
Bulldog senior defenseman Chad Billins was selected as this issue's "Athlete of the Week" following outstanding performances in FSU's two-game sweep of the University of Notre Dame (Feb. 10-11). In Friday's game, Billins helped the Bulldog defense shutout the Fighting Irish as FSU earned a 3-0 victory. He also earned an assist on the final goal of the game. In Saturday night's 5-1 victory, Billins scored an even-strength to give the Bulldogs a 2-0 lead in the first period. He has now tallied a point in each of FSU's last nine games. With Billins' help, the Bulldogs improved to 20-8-4 overall and 14-6-4 in CCHA play. FSU is the first team in the nation to reach 20 wins this season.
This season, Billins, who is also a team co-captain, has appeared in 30 games for the Bulldogs. He has scored six goals, notched 16 assists and tallied 22 points. In addition, of the six goals Billins has recorded, five of them were power-play goals.
Come watch Billins and the rest of the FSU ice hockey team as they host Bowling Green University for a two-game series Feb. 17-18 at the Ewigleben Ice Arena. Both contests have a 7:05 scheduled start time.