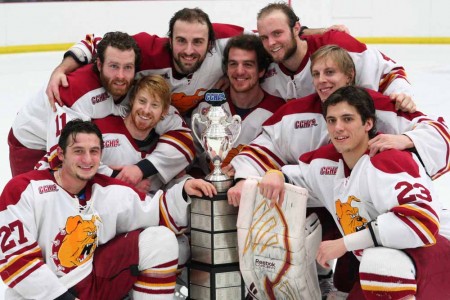 The FSU hockey team entered the weekend series against Western Michigan University needing to gain just a single point to pull ahead of the University of Michigan and win the CCHA title outright.
Despite falling to the Broncos in a shootout Friday night and being shutout Saturday night, the nationally top-ranked Bulldogs were able to pick up the necessary points in Friday's tie to claim the 2011-12 Central Collegiate Hockey Association Regular-Season Championship. The league title is only the second in school history and the first time since the 2002-03 campaign.
"There's no better feeling than winning a title," Ferris senior forward Jordie Johnston said. "We're just really happy with what we accomplished this year."
In the final game of the regular season, FSU had its nation leading 15-game unbeaten streak snapped. Saturday night's 3-0 loss was the first in 2012 for the Bulldogs. Despite the "Senior Night" loss, FSU still gave the sellout crowd in Ewigleben Ice Arena plenty to cheer about as the Bulldogs hoisted the CCHA Regular Season Championship trophy following the contest.
The Bulldogs concluded the regular season with a 22-9-5 overall record and a league-best 16-7-4 mark in CCHA play. WMU finished its regular season with a 17-13-6 overall and a 14-10-4 in league play.
"It's a great atmosphere here," Ferris freshman goaltender CJ Motte said. "I love it every time I get out on the ice."
As part of the "Senior Night" festivities, Bulldog defensemen Chad Billins, Michael Trebish and Brett Wysopal were honored along with forwards Aaron Schmit, Jordie Johnston, Derek Graham, Tommy Hill and goaltender Taylor Nelson.
FSU has earned a first-round playoff bye and will host a best-of-three second round series Mar. 9-11 at the Ewigleben Ice Arena against an opponent to be determined. All three games of the second round series are tentatively scheduled for 7:05 p.m.
Jordie Johnston # 11
Rosetown,Saskatchewan/LaRonge (SJHL)
Forward
As a standout forward for the Bulldogs, Johnston is the team's leading point producer this season with 17 goals and 15 assists for 32 total points. In addition, he's notched a team-best six power play goals and four game-winning goals. In his four-year career at FSU, Johnston has notched 53 career points in 128 games. When he's not playing hockey, the accounting major enjoys golfing and fishing.
Taylor Nelson # 29
Regina,Saskatchewan/Humboldt (SJHL)
Goaltender
Nelson has made his mark as one of the top goaltenders in FSU hockey history. His 31 career victories in the net rank sixth among the Bulldogs' all-time goaltenders. In addition, Nelson's 2.36 career goals against average is currently third in the program's history while his .623 career win percentage is second in the Bulldog record books. His 77.1 winning percentage in the net this season is tops all-time for a season. For his efforts in goal this season, Nelson is a candidate for the Hobey Baker Memorial Award as the nation's top collegiate player. Known as "Nelly" to his teammates, he is majoring in marketing.
Chad Billins # 4
Marysville, Mich./Waterloo (USHL)
Defenseman
In his career at FSU, Billins has totaled 17 goals and 50 assists for 67 points in 141 games played. In addition, he's blocked 166 shots in his four-year career while scoring nine power play goals and five game winners. Billins' 141 career games played is tied for 14th all-time among Bulldog defensemen. He is a Hobey Baker Award candidate as well as a Lowe's Senior CLASS Award finalist and has served as a co-captain for this year's squad. Off the ice, the marketing major enjoys music and fishing.
Derek Graham # 22
Schoolcraft, Mich./Mahoning Valley (NAHL)
Defenseman
In his career as a Bulldog, Graham has helped the team as both a forward and a defenseman. This season he has totaled 16 points on four goals and 12 assists. Graham's career statistics to date includes 45 total points on 10 goals and 35 assists in 130 career contests. Earlier this campaign, he earned CCHA "Player of the Week" following two multi-point performance against the University of Alaska. Affectionately called "Grammy," he is majoring in accounting.
Tommy Hill # 32
Portage, Mich./Topeka (NAHL)
Defenseman
An exemplary student-athlete both on and off the ice, Hill has excelled at FSU both academically and athletically. The two-time Dean's Academic Award recipient has totaled 30 blocked shots in his career as defenseman before making the switch to forward. He has played an integral role in the Bulldogs' success this season as a co-captain. Other than skating, Hill's interests include poker, fishing and water sports. He is majoring in finance.
Brett Wysopal # 27
LaGrange Park, Ill./Tri-City (USHL)
Defenseman
Praised by his teammates and coaches alike for his relentless effort on the ice, Wysopal has totaled seven goals and 35 assists for 42 points in 112 games played as a three-year Bulldog hockey player. A transfer from Colorado College, he has blocked a career total of 172 shots with a personal career-high 61 blocked shots this campaign. Outside the rink, he enjoys hockey, football, golf and watching television.
Michael Trebish # 23
Yorkton,Saskatchewan/Yorkton (SJHL)
Defenseman
As a physical defenseman who takes pride in protecting his teammates, Trebish is regarded as a steady and solid player by the Bulldog coaching staff. In his career, he's notched three assists and blocked 51 opposing team shots. As a sophomore, he recorded a career-best 21 blocked shots. Like several of his teammates, Trebish is majoring in accounting and has experienced great academic success while at FSU.
Aaron Schmidt # 5
Grafton, Wisc./Chicago (USHL)
Forward
Schmidt began his career at FSU as a defenseman but was soon transitioned to forward. This season the power forward has tallied eight goals to go with six assists while scoring for the Bulldogs at critical moments. In his FSU career, Schmidt has recorded 20 points on 14 goals and six assists as well as 32 blocked shots. Outside the rink, the accounting/finance major is an avid fan of both the Green Bay Packers and the Milwaukee Brewers.