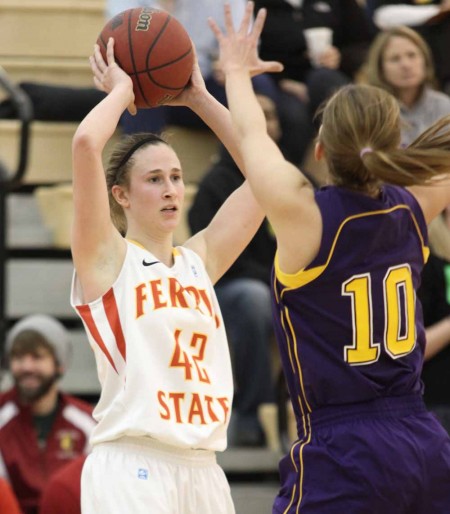 Tricia Principe
Senior
FSU Women's Basketball
Kalamazoo/Mattawan High School
Bulldog senior guard Tricia Principe was selected as this issue's "Athlete of the Week" for her outstanding performance this season as she helped the team to a GLIAC North Division Championship and an NCAA Tournament appearance. For her efforts, she recently claimed All-GLIAC Second Team recognition.
This season Principe became only the 15th player in school history to reach 1,000 career points. She ranked second on the team in scoring as she averaged 11.5 points per game this campaign. A four-year contributor for the Bulldogs, Principe is also FSU's all-time leader in career free throw percentage.
Principe played her final game in an FSU uniform during the regional semifinals alongside fellow senior guards Lindsey Pettit and Kelsey DeNoyelles. In her final collegiate contest, Principe scored nine points as the Bulldogs suffered a 71-57 loss to Wisconsin-Parkside. FSU finished the season with a 23-7 overall record, which matches the school record set in 2006-07 for most wins in a season.