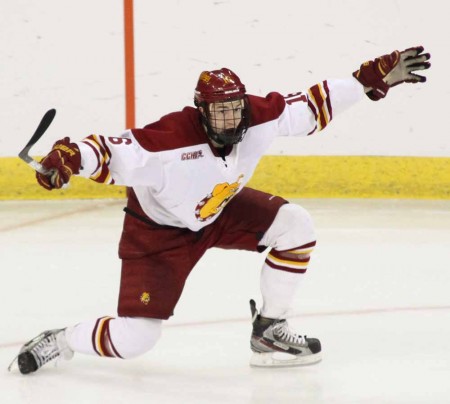 Garrett Thompson
Sophomore
FSU Ice Hockey
Traverse City/Traverse City Central
Bulldog sophomore left wing Garrett Thompson was selected as this issue's "Athlete of the Week" following an outstanding performance against Cornell University in the Midwest Regional final (March 24).
In Saturday's game, Thompson got Ferris State University on the board first as he scored his 10th goal of the season. The goal came after two scoreless periods and just 11 seconds into the final period. The Bulldogs ultimately defeated Cornell 2-1 at the Resch Center in Green Bay, Wisc. The victory is arguably the biggest in the program's history as FSU garnered its first-ever NCAA Frozen Four berth.
Thus far in the 2011-12 season, the Bulldogs have compiled a 25-11-5 record. Thompson and the rest of the FSU hockey team will continue the season on April 5 in Tampa Bay, Fla. The Bulldogs are set to face Union in the national semifinals.