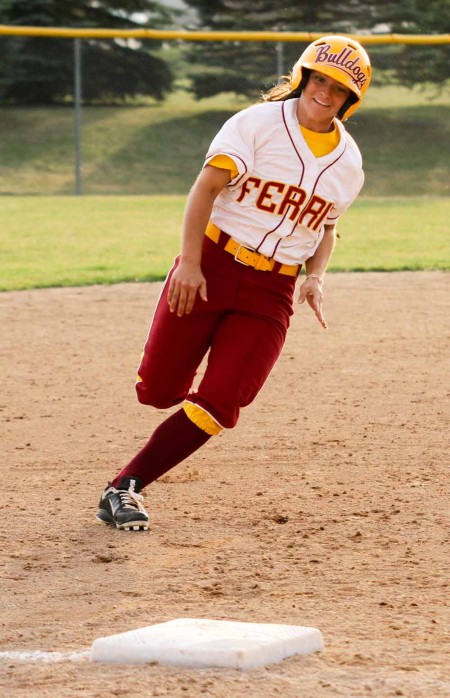 Ferris State University met with three Great Lakes Intercollegiate Athletic Conference schools for the Bulldogs first league matches of the year.
"It's always exciting getting into our conference play, especially working so hard during the offseason," Bowler said. "It's exciting to get on the field and get to put in the play what you've been working on all offseason."
FSU went on the road to Findlay University where they began their GLIAC regular season with a doubleheader against the Oilers March 23. The Oilers defeated the Bulldogs in game one of their doubleheader 6-4. Then went on to sweep FSU with a 10-4 victory over the Bulldogs.
"Every team in the GLIAC comes back strong every year," Bowler said.
After being swept by Findlay, the Bulldogs boosted their morale by rebounding from their setback in a sweep of the defending GLIAC champions Tiffin University. FSU opened the doubleheader against the Tiffin Dragons with a 3-1 victory. FSU then took the second game in the ninth inning, winning 1-0.
Junior pitcher Dana Bowler picked up a win by tossing a six-hit complete game. Bowler had nine strikeouts in the first game of the doubleheader.
Freshman shortstop Michelle Tononi had two hits for the Bulldogs and a double. Junior Lainee Clay hit a double for the Bulldogs while senior Lindsey Pettit hit a second consecutive homerun.
FSU made a stop in Detroit March 25 to face the Wayne State Warriors in a doubleheader.
Despite opening the first three innings of the match with seven runs, the Bulldogs lost to Wayne State 10-7 in the first game of their doubleheader. Wayne State then secured a sweep of the Bulldogs by defeating them 6-1 in the second game of the doubleheader.
The Bulldogs are now 10-12 overall this season. Ferris is off to a 2-4 start to the GLIAC season.
"We're trying to get our hitting more consistent to score some more runs," Bowler said. "We're not really worried right now, we just need to step it up."
Now the Bulldogs will prepare to face non-league Davenport University March 28 at 3:30 p.m. in Grand Rapids.
After their meeting with Davenport, FSU will head to Allendale to face nationally 18th-ranked Grand Valley State University on March 31 and April 1. The two teams will play two doubleheaders over the weekend.
"It's always a big game for us when we face Grand Valley," Bowler said. "Hopefully when we face Grand Valley we'll have everything figured out."
Grand Valley is 22-4 overall this year. The Lakers have only lost one league game thus far, with a 5-1 GLIAC record.