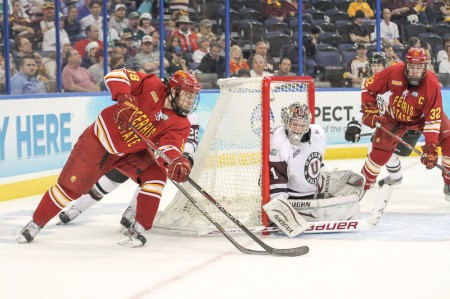 Of the 58 NCAA Division I men's hockey programs in the nation, Ferris State University and Boston College are the only hockey programs left competing in the nation.
On April 7 at 7 p.m. each team will take the center of the ice with one goal in mind: win a national title.
Boston College will be looking to capture their fifth national title in the hockey program's existence, and their third in the past five years.
The Bulldogs have never made it this far into the NCAA Division I tournament. In fact, this is only the second time the Bulldogs have made an appearance in the NCAA Division I Tournament.
If the Bulldogs can defeat Boston College, Ferris State will be the first school to win the tournament in their first trip to the finals since the University of Maine did in 1993.
Senior FSU goaltender Taylor Nelson said that for a win against Boston College it would be imperative that the Bulldogs maintain their composure.
"We're the team that's not supposed to be here. We're the underdogs and we embrace that," Nelson said. "Not being nervous, knowing that we belong here despite what a lot of people are saying; I think that's enough motivation for us."
Nelson said the Bulldogs motto all year has been "We're not satisfied," and now the Bulldogs are in the same position as when they were in the NCAA regional's of the tournament.
"Winning tomorrow and putting our best foot forward will satisfy us," Nelson said. "Our goal [in Tampa], just like it was in Green Bay, is to win two."
Senior forward Jordie Johnston has repeated throughout the tournament that the team is only 50 percent satisfied.
"We have a huge game ahead of us and that's what is our main focus," said junior forward Kyle Bonis.
The Bulldogs have allowed just one goal in each of their three tournament wins. Ferris State has yet to give up a power play goal in the tournament.
The Bulldogs defense has blocked 58 shots so far in the tournament. FSU's defense will have to slow down a Boston College offense that has scored 12 goals in the NCAA tournament.
Boston College is ranked third in the nation in team offense, averaging 3.56 goals a game according to U.S. College Hockey Online. The Bulldogs defense has allowed an average of 2.14 goals a game this season, earning a nationally fifth-ranked team defense (USCHO).
"Boston College has a powerhouse offense and we're a team that strives on the defensive side of the puck," Nelson said. "I think if we're able to slow Boston College down it will benefit us."
Ferris is ranked 21st nationally in team offense, averaging 2.93 goals a game.
Two Bulldog seniors were recognized as first and second team All-America selections for the CCM Hockey All-America teams sponsored by CCM hockey and selected by the American Hockey Coaches Association.
Nelson was recognized as a first-team selection for the West Region while senior defenseman Chad Billins earned a second-team selection in the same region.
Nelson is 21-6-3 this season, with a .924 save percentage and a 2.06 goals against average. Boston College's Parker Milner is 28-5-0 this year, averaging 1.68 goals against and Milner holds a .936 save percentage.
The puck will drop at 7 p.m. and can be watched on ESPN2 or listened to on 97.3 FM in the Big Rapids area.
Fans in the Big Rapids area are encouraged to welcome the Bulldogs home on Sunday at the Ewigleben Ice Arena. The Bulldogs are expected to arrive around 3:30 p.m and fans should come early.