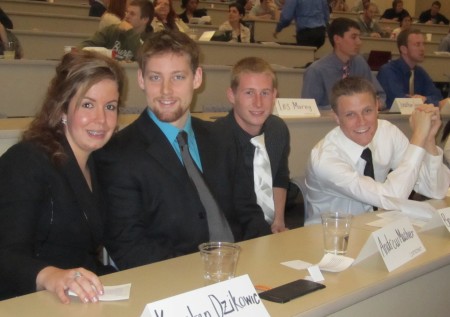 Getting up in front of a room full of people and sharing a new business idea is not always the easiest thing to do.
Seven groups of students as well as three community members did so at the Innovation Unleashed event on April 11. The idea of the event was to encourage student entrepreneurs to reach out and bring their business ideas to life.
Each team had five minutes to propose a business idea, and it was then rated by a panel of judges and the audience.
"I was really nervous, but once I got the microphone in my hand and started to present I felt comfortable. The fact we added comedy to our presentation made it a lot more fun," Brandon Archambault, an FSU senior in corporate fitness, said.
Each team had a different approach to winning over the judges and audience votes. Some groups attempted to place by using humor and others by professionalism. Even so, each team presented facts and research about a certain topic that one day they hope can be made into a business.
"I got a lot of entrepreneurial spirit out of this event. After participating in it, I find myself thinking of new innovative business ideas," Archambault said. "Ultimately, I plan on being an entrepreneur and I believe events like Innovation Unleashed are my inspiration."
Archambault and his partner Kyle Czuprenski pitched an idea called "Drunkables: Lunch for Hangovers." They tied for audience favorite with Evan Pazowski and Parker Hammon, who pitched an idea for an online concert creator.
Each group was awarded $250 for their creative business pitches.
The grand prize winners of the student showcase judge's choice were Kristen Dzikowic and Andrew MacIver. The two seniors pitched an idea about a human resource website and were awarded $500.
Taking second place by judge's vote and the award of $250 was Elizabeth Fabode. Her business pitch consisted of a company that would work to cater to college students.
"The event was a great success," Archambault said. "We had some great ideas pitched and a large audience."
The judges consisted of Ron Steiner, Michigan State University Extension Entrepreneurship Development Educator and founder of The Kitchen Incubator; Bonnie Knopf, president of Intrepid Plastics, Ferris alumna and founding member of the Grand Rapids Inventors Network; and Kevin Kinnally, vice president/general manager of Kraftube Inc. and local entrepreneur.
The money awarded to competitors was raised from contributions from more than 20 local business owners.
Some of the businesses include Chemical Bank, Schuberg Insurance Agency, Kraftube, JW Speaker, Intrepid Plastics, Michigan Works West Central, ABC Auto, Simply Speaking and Applied Imaging. Several more businesses donated products and gift certificates for audience door prizes. n