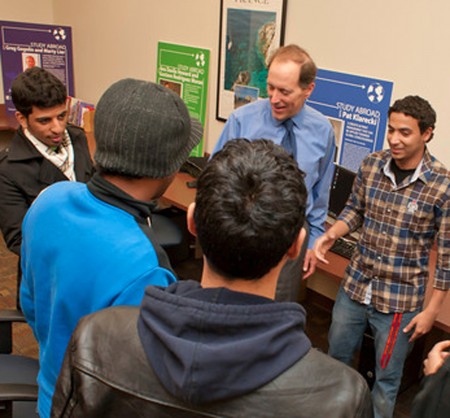 Republican Congressman Dave Camp recently came to Ferris State University to speak to students and the Big Rapids community about his experiences as a member of the House of Representatives and the political issues that are facing our country today.
As a representative from the fourth congressional district, where Mecosta County falls, he has been serving in congress since 1991.
Camp's speech focused mainly on taxation and fundamental reform to the current tax system that is imposed upon Americans. He advocates some cuts to the system and a general reform toward a simplified tax code.
Camp said, "The tax code is ten times the size of the Bible but with none of the good news."
Camp insisted that tax reform is crucial to the nation's future.
"A lot of people don't feel we've had a recovery because we haven't. Tax reform could really help boost our economic growth. If we don't do anything, we'll face a four trillion dollar tax increase over the next ten years due to expiring provisions in our tax code," Camp said. "Our top tax rate should be 25 percent. We have the highest tax system in the world; this country has to become more competitive with its taxation."
He pointed out America's "double tax" as a hindrance to business as it taxes business twice: once for domestic activity and once for foreign activity.
Camp also criticized the president's plan to extend a tax credit to American manufacturers by saying, "This further complicated the tax system; it is a step in the wrong direction."
When faced with a question from President Eisler about what Camp would do to help college students, he replied, "I've been a long time supporter of Pell Grants, but this isn't the entire solution. Tuition and grants have both been going up at the same time, and this is a huge issue. The worst thing is for a student to graduate with massive debt and then be unable to find employment."
Amber Dunken, a first-year FSU pharmacy student, posed a question about Camp's vote against the Lily Ledbetter Fair Pay Act of 2009, which helps ensure equal pay for women in the work force. Camp replied that he thought this was something "the free-market should handle."
"I thought he was a little vague about my question," Dunken said. "This is an important issue to me as I'm a woman and I'm going to be entering the workforce."
"I found Congressman Camp to be very informing," Anthony Peltier, a junior in marketing, said. "I wish more students would have come out to hear him speak. People need to be more interested in political issues. It's very important to listen to all sides."