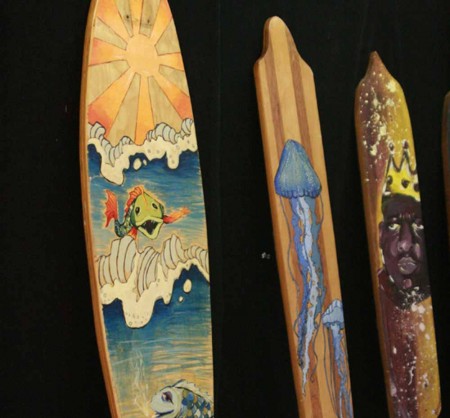 What's better than student art? How about student art that's gets you from point A to point B?
Emily Noffsinger, Ferris sophomore in graphic design and this month's Rankin Art Gallery Student Artist of the Month, is on a roll with artistic expression, creating original longboards.
Noffsinger began the process as a senior in high school, when an advanced placement class required her to turn in a concentration, or 12 pieces of related art. Knowing Noffsinger would be pursuing a degree in graphic design, her teacher suggested her student create a company. Noffsinger would start by making a logo and then create the actual boards.
"I learned from one of my brother's friends. He was making them for a lot of people I knew. I was interested, so I asked if I could tag along. He took magazines and posters, cut them up, and put them on a board and would lacquer over them. It was way easier than I anticipated," Noffsinger said.
With a graphic designer for a father and her own natural gifts, Noffsinger had plenty of drive to develop her creations. For her first board, her father did the sanding and cutting while Noffsinger focused on design.
Later, Noffsinger began cutting her own boards, a process she said is still being perfected.
"At first I ended up taking old wooden water skis because I live on lake. I sanded all the paint off them, took off the hardware and cut them out with a bandsaw," Noffsinger said.
She then proceeded to experiment with cutting different shapes and discovering the right wood, trying to find a happy medium between too rigid and not sturdy enough.
"I made a couple for a friend. He rode one for a while before it cracked. He hit a bump and the wheels got caught on the cement. The second I got the wrong kind of wood and it was really stiff," Noffsinger said. "It's a lot of trial and error."
As for the design portion of the boards, Noffsinger sees endless possibilities for designs and mediums. Thus far, she's used mostly acrylic paint. This summer, she plans to experiment with collages, using Illustrator and vinyl stickers to bring her boards to life. A couple of notable designs on her boards thus far include a Notorious Big board as well as a Jimi Hendrix board in which the grip is the famous guitarist's face.
A long-boarder herself, Noffsinger feels her creations are relatable to the student body.
"It surprised me how many people on this campus long-board. My friends and I go down to parking garages in the summer. It's a cool culture, and there are so many people going in big groups," Noffsinger said.
Noffsinger would like to someday sell her boards and has already been asked by someone interested in buying.
"Every artist who has been Artist of the Month is really talented and could probably draw a lot better than I could. But 3D art like this is cool to see if you do it everyday," Noffsinger said.
Noffsinger's exhibit is currently outside of Rankin Art Gallery. Noffsinger works on the Torch staff as an ad layout assistant.