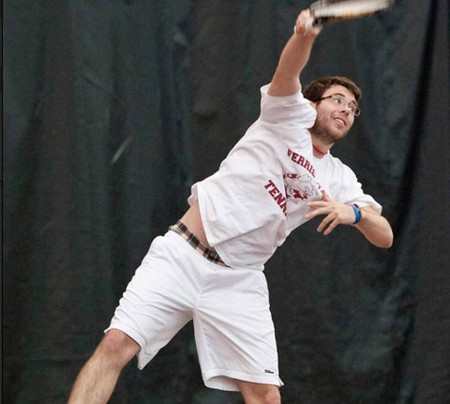 Tyler Marengo
FSU Men's Tennis
Junior
Port Huron/Northern
Bulldog junior tennis player Tyler Marengo was selected as this issue's "Athlete of the Week" after helping the FSU men's tennis team upset 13th-ranked Northwood University 5-4 Sunday afternoon to win the 2012 Great Lake Intercollegiate Athletic Conference Tournament crown. It was the men's tennis program's first conference championship of any kind since 1999.
Marengo was a straight-set winner at number six singles. He also posted a victory with his partner senior Jack Swan at number three singles. This season Marengo is 8-2 overall in singles play and 10-3 overall in doubles play. As a singles player, he is currently on a five-match win streak, and as a doubles player, he is currently on a six-match win streak.
FSU concluded regular-season play 13-6 overall and 8-1 in league play. Their only conference loss was to Northwood. Next up for the Bulldogs is the NCAA Division II Men's Tennis Championship Tournament. The field will be announced April 24 at 8 p.m. (prior to press time).