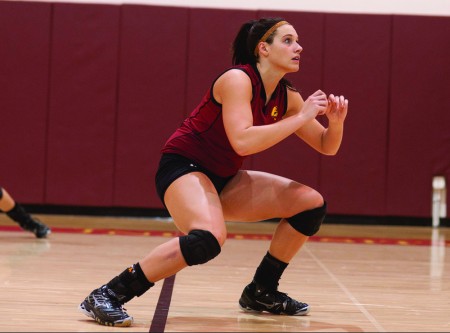 Aly Brecht
Senior
FSU Women's Volleyball

Bulldog senior outside hitter Aly Brecht was selected as this issue's "Athlete of the Week" for her performance in the the 2012 Ferris State University Invitational.
Brecht managed to pick up her first two double-doubles of the season in the tournament. FSU's Brecht recorded her first double-double this season in a 3-2 loss to non-conference foe Mercyhurst Aug. 31 in Big Rapids. Brecht compiled 11 kills on offense while adding 11 digs on defense. She also had a solo black and three block assists in the match-up.
In the second day of action, Brecht helped the Bulldogs bounce back from an upset to Mercyhurst by posting her second double-double in a 3-1 victory against Clarion (Pa.).
The Bulldogs managed to keep the Golden Eagles nested while Brecht hit 11 kills and added 16 digs.
After the home invitational, the Bulldogs are now 3-1 for the season.
Next, the nationally 14th-ranked Bulldogs will travel to Duluth, Minn. for the Minnesota-Duluth Classic Sept. 7-8. The Bulldogs will face two teams each day of the classic, Minn.-Crookston and Bemidji State Sept. 7. During the final day of the classic the Bulldogs will face Minnesota Duluth and Erksine (S.C.). n