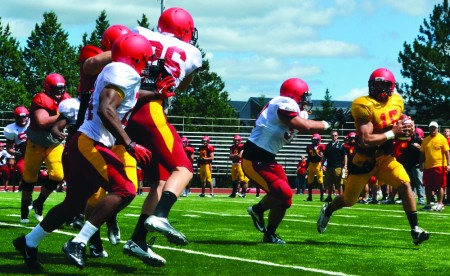 Ferris State University football opened its 104th season with a 35-24 victory on the road against the National Association of Intercollegiate Athletics seventh-ranked University of St. Francis at Joilet Memorial Stadium in Illinois.
The Bulldogs piled up 364 rushing yards, helping coach Tony Annese stride to a victory in his debut as head coach for Ferris.
The Fighting Saints controlled the clock early, but the Bulldogs struck on their first offensive play from scrimmage; a 73-yard passing touchdown from Ferris red shirt freshman quarterback Jason Vander Laan to Ferris sophomore wide receiver Jake Lampman.
Just five minutes later, St. Francis connected on a 29-yard pass from E.J. White to wide out Anthony Hubert. After a back and forth second quarter, Ferris regained the lead on a seven play, 66-yard scoring drive. The drive was capped by Vander Laan scampering past the Saints' defense to net the Bulldogs an additional six points.
St. Francis tied the game with only 27 seconds remaining in the half when Malik Norman scored from two yards out, sending both teams to the locker room with 14 aside at the half.
Ferris wasted no time on its opening possession of the second half, marching 45 yards in five plays and capping the drive with a two-yard touchdown by senior running back Skylar Stoker just 1:17 into the third to go ahead 21-14.
Just a few minutes later, Ferris would add another score on freshman receiver Ryan Taylor's first collegiate touchdown, a 22 yard reception to complete another long Bulldog drive and take a 28-14 lead.
St. Francis would hit a 43-yard field goal at the end of the third but could not narrow the margin. The Bulldogs milked the clock on a 13 play, 81-yard drive, eating up 5:52 that ended in Vander Laan's second rushing score of the day, putting Ferris ahead 35-17. St. Francis would add a touchdown late, but too late.
"They couldn't stop our running game; we kept pounding the ball and they couldn't do anything about it," Stoker said, who led the way with 129 yards on 19 carries. "We established the running game early and were able to continue utilizing it throughout the game. Obviously we are working out kinks and we'll make some adjustments, but to rush for 364 yards in the first game is promising."
Vander Laan rushed for 103 yards, earning two touchdowns in the process.
The Bulldogs plan to apply this strategy until an opponent proves it can stop it, which the Saints proved they could not.
"We gave up 373 yards through the air and that has to be cleaned up," Ferris senior defensive end Jordan Morgan said. "It was the first game; obviously we will look at some film and adjust accordingly."
Senior Jamie Barrera led the Bulldogs' defense in tackles with 11.
Ferris opens conference play on the road next Saturday, Sept. 8, as the Bulldogs visit Lake Erie for a 7 p.m. game in Painesville, Ohio.
The Bulldogs will welcome the sound of their home crowd the following week, as they host Ashland University in the Bulldogs' home opener Sept. 15 at 7 p.m. at Top Taggart Field in Big Rapids.