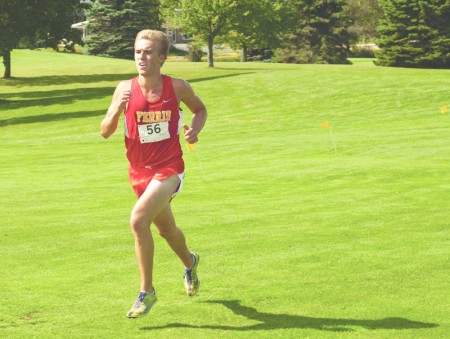 Spencer Gerber
Sophomore
FSU Men's Cross Country
Bulldog sophomore distance runner Spencer Gerber was selected as this issue's "Athlete of the Week" for his performance in the annual Ray Helsing Bulldog Invite.
Returning in his second year on the Ferris Men's Cross Country team, Gerber led the Bulldogs in the invite with a time of 26:09.52, taking first place in the 8k run. He was followed by five fellow Bulldog runners who helped round out the Top 6 in red and gold.
Gerber improved is time from last year by almost a minute (27:05.28) and coming from the 19th place to get him in the lead.
Gerber is on a nationally ranked team for Ferris as indicated in the 2012 United States Track and Field/Cross Country Coaches Association (USTFCCCA) Division II Preseason Rankings. The cross country men's squad is ranked 30th nationally.
Next, the Bulldogs will travel to East Lansing to take part in the Michigan Stat Spartan Invitational Sept. 14.