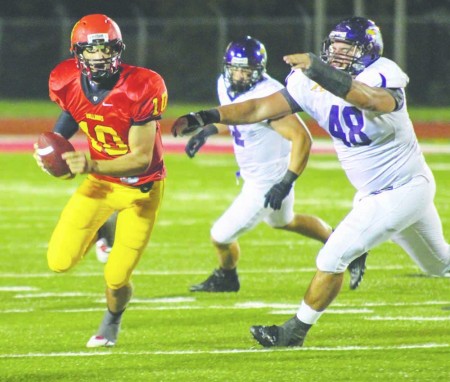 Taylor Masiewicz
Sophomore
Ferris Football
As a 2010 graduate from Rockford High School, sophomore quarterback Taylor Masiewicz came onto the Ferris football team as a redshirt freshman. In 2011 he played in 11 games on special teams and as a backup signal caller. For the 2012 season he is one of the quarterbacks for the Bulldogs.
As quarterback Masiewicz has helped the Bulldogs to victories in two games.
For his first game of the season against St. Francis, Masiewicz assisted with a 56 yard punt for the bulldogs, improving to 176 yards against the Ashland Eagles. In three games, he logged more playing time to increase his punting by over a 100 yards.
Along with punting he has assisted in a few 30 yard rushes. In his first three games Masiewicz has improved and still has eight games to showcase his talent.
The Bulldogs have a game Sept. 22 at Top Taggert Field against the Walsh College Cavaliers at 7 p.m.