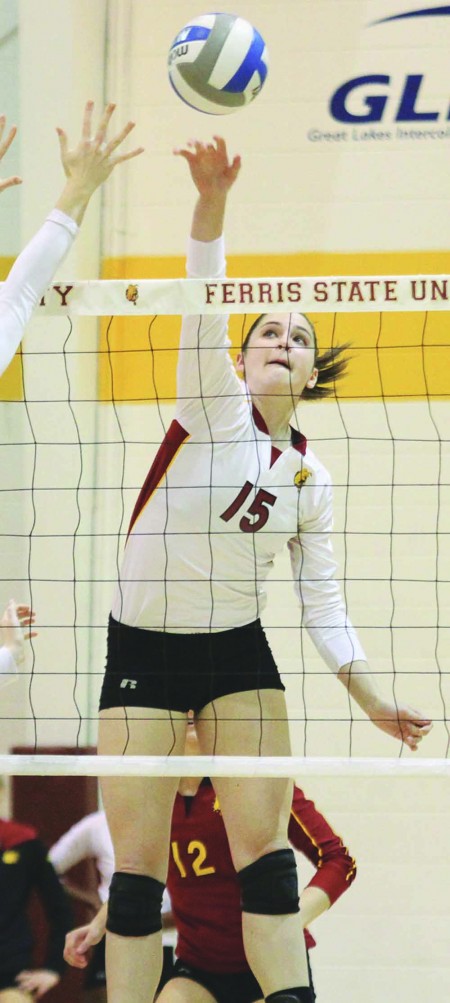 Courtney Rehm
Sophomore
FSU Women's Volleyball
Bulldog sophomore middle hitter Courtney Rehm was selected as this issue's "Athlete of the Week" for her performance in Ohio Sept. 28-29 and against Grand Valley State University Sept. 25.
Rehm led the Bulldogs attacking effort in a 3-2 decision over Grand Valley with a match-high 19 kills. Rehm added 9 digs on defense in the match-up.
Rehm used her attacking talents against Ohio Dominican Sept. 29 to stretch the Bulldogs winning streak to six consecutive matches. She registered her 15 kills and 12 hits for her fourth double-double of the season.
Against Tiffin, Rehm remained a force on defense by tallying a team-best 10 digs.
Rehm has totaled a squad second-best 139 kills in 55 sets played this season. She averages 2.78 digs per set, while totaling 153 digs.
Other team's offense's have fell prey to Rehm's ability to block this season. She has protected the top of the net for 36 blocks this season.
Rehm and the Bulldogs will await the arrival of Ashland University to the Ewigleben Sports Arena until Oct. 5. Ferris and Ashland have not met this season.
The Bulldogs will finish their weekend with a match against Lake Erie Oct. 6 at 3 p.m. on home floor.