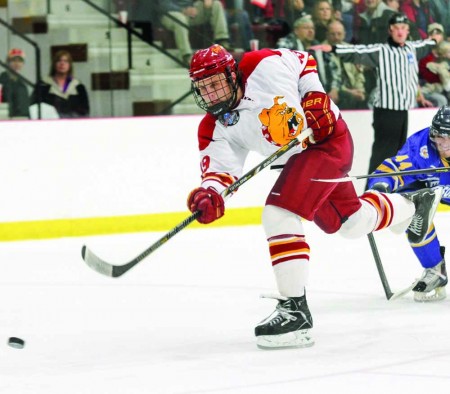 Hockey opened home ice in exhibition tilt
The Bulldogs, who are 11th-ranked in the nation according to both USA Today/USA Hockey Magazine and U.S. College Hockey Online's Division I polls, hopped on their home ice for an exhibition tilt against Ryerson University Oct. 7. The Bulldogs delivered Ryerson an 8-2 defeat. Ferris' junior forward Justin DeMartino tallied three goals in the match for his a hat-trick. The Bulldogs allowed their three netminders to each play out a period of their own to collect 20 minutes of action each. Ferris State held a 44-28 edge in total shots over the Rams of Ryerson. The Bulldogs will open the regular season on the road Oct. 12-13 for a non-league visit with RPI in Troy, N.Y. The puck will touch center ice at 7:05 p.m. in each game. Fans may listen in live on Sunny 97.3 FM or at the Bulldog Sports Network online at FerrisStateBulldogs.com
Bulldogs XC speed by competition in UW-Parkside Invite
Ferris State University traveled to Kenosha, Wis. for the Lucian Rosa Invitational hosted by Univeristy of Wisconsin-Parkside Oct. 6. The women's cross country team claimed first-place in the event, finishing with 60 points total and 30 points less than conference foe Wayne State who came in second. Junior Samantha Johnson led the Bulldogs with her fourth-place finish while sophomore Krisitie LeSage followed for seventh-place. Alyssa Osika rounded out the top ten for the Bulldogs with a 10th-place finish in the 5K event. Ferris redshirt senior Anna Rudd ran unattached in the event to claim second-place, three seconds behind UW-Parkside's Jessica Watychowicz. The men's cross country team snagged second-place behind Cedarville University. Senior Ryan Chute paced the Bulldogs with a 10th-place finish in the 8K meet. Sophomore Spencer Gerber and freshman Brandon Cushman rounded out the top 20 for the Bulldogs by garnering 16th-place and 18th-place finishes, respectively. The Bulldogs cross country program will now prepare to compete in the 2012 GLIAC Championships scheduled for Oct. 20, hosted by Northwood University in Midland, Mich.
Women's golf has best showing of season thus far
The Bulldogs women's golf program compiled a team tally which deserved first-place in the Findlay "Bing Beall" Classic held Oct. 7-8. Ferris completed the tournament with a 617 total in the two round event on a par 72 course at Findlay Country Club in a field of 15 teams. The Bulldogs finished one stroke ahead of rival Grand Valley State University. Junior Emily Rodhy led the Bulldogs individually with her two round 153 total for a third-place finish. Junior's Jacqueline DeBoer and Ashley Swanson were each a stroke behind of the other to finish in fourth- and seventh-place. They posted two-round stroke totals of 154 and 155, respectively. The event was the final of the fall semester for the Bulldogs.