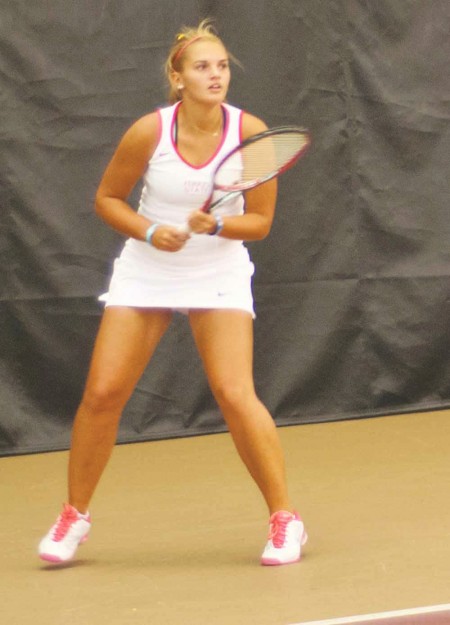 Julie Fusik
Junior
FSU Women's Tennis

Julie Fusik, Ferris junior in professional tennis management, has held down the No. six flight for the Bulldogs this season by besting Great Lakes Intercollegiate Athletic Conference singles foes 7-3 in the regular season.
Fusik stands at fourth in the GLIAC's number six flight single's leaders this season. She has won seven of her last nine matches.
This year, Fusik has been the Bulldogs' vanchor in close matches. She competes in the last match of both doubles and singles, the No. two and No. six flights, respectively. Fusik and her partner, junior Laurence LeBlanc, finished the doubles flight in an effort to give the Bulldogs a boost heading into singles play. LeBlance and Fusik completed the regular season 6-5 in doubles play.
Fusik's singles position allows her to be a clutch player for the Bulldogs. She has given the Bulldogs a team win three times this season when the team was tied up against Michigan Tech, Ohio Dominican and most recently Tiffin. Fusik was down 2-5 against Tiffin's Abi Schuster Oct. 14 before she edged Schuster for a 5-4 win over Tiffin.
"This season has been a fun and hard one to adjust to with the new coach and newcomers (teams) to our conference. All of the teams in our conference are fairly evenly matched and any of the top eight teams can take the GLIAC tournament in two weeks," Fusik said.
Last year, Fusik competed in two doubles matches–once with LeBlanc at the beginning of conference play against Saginaw Valley State, when neither had any doubles experience prior. They lost 8-5 against Saginaw Valley and Fusik did not see the tennis court until this season. The second time she competed alongside former Bulldog athlete Natalie Diorio.