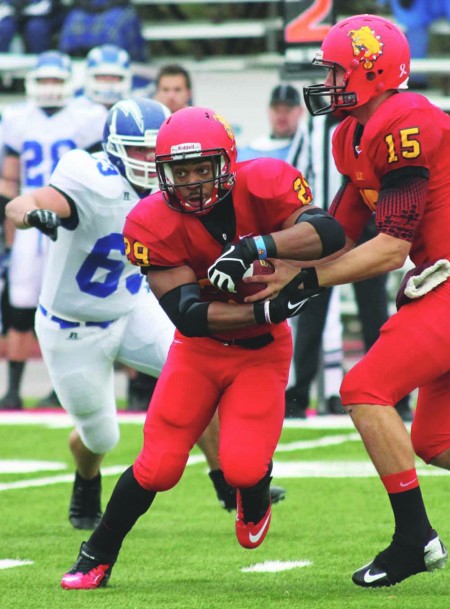 Until his 70-yard run against Grand Valley State University Oct. 6, Bulldog junior running back Korey Ringer had yet to score in 11 attempts and 45 yards covered.
At the beginning of the second half against GVSU, Ringer found a hole in the Lakers' defense to score his first touchdown of the year and give the Bulldogs a 27-24 lead, which Ferris maintained to hoist the Anchor-Bone trophy for the first time later that night.
Ringer stayed on the field in Allendale after his squad-best 70-yard rush to complete his night with 131 yards covered on the ground in 11 carries.
"His 70 yard run against Grand Valley was very impressive because it showed how athletic he was running past GVSU's defenders," senior linebacker Tayo Moss said. "He runs very hard and is a great team player."
Ringer, sophomore running back Jamaal Jackson and redshirt freshman quarterback Jason Vander Laan made history that night by ending a 13-year losing streak to GVSU.
"He made the right cuts at the right times," senior running back Skyler Stoker said. "The play calls really took advantage of what GVSU was doing defensively and he ran the plays to the T."
Each of the three entered their names in the football program's record book as players who rushed for over 100 yards each and combined for a record total 423 yards rushed between them.
"Korey, Skyler and Jamaal are all great running backs for our program," Moss said.
In six games this year with the Bulldogs, Ringer has made 19 carries for a total of 166 yards covered on the ground. He did not play Oct. 13 against nationally 25th-ranked Hillsdale.
Ringer transferred from Grand Rapids Community College. He is one of six transfer students from head coach Tony Annese's 2011 GRCC football team. Ringer was a two-year starter as running back for GRCC.
When Ringer began his search for a place to continue playing football after GRCC, he initially wanted to join the tradition of Division I football athletes in his family.
His father, Kevin, played at the University of Iowa as a running back who backed up Ronnie Harmon and Rick Bayless in the mid-1980s. Ringer's younger brother is a linebacker for the University of Michigan and his uncle, Javon, is currently a running back for the Tennessee Titans and competed at Michigan State where he was given All-American honors in his senior year.
Ringer, a Dayton, Ohio, native, chose to continue playing for Annese with hopes that the Bulldogs could win back-to-back championships.
He grew accustomed to winning under Annese's system at GRCC and when he was given the chance to join Ferris, he chose not to hesitate any longer.
Ringer hopes he can continue playing football after his stay at Ferris, preferably in the NFL. If his dream to continue playing falls through, he plans to coach football, the sport he has a passion for, to students who are either in high school or junior college in hopes that he can help them follow their own dream.