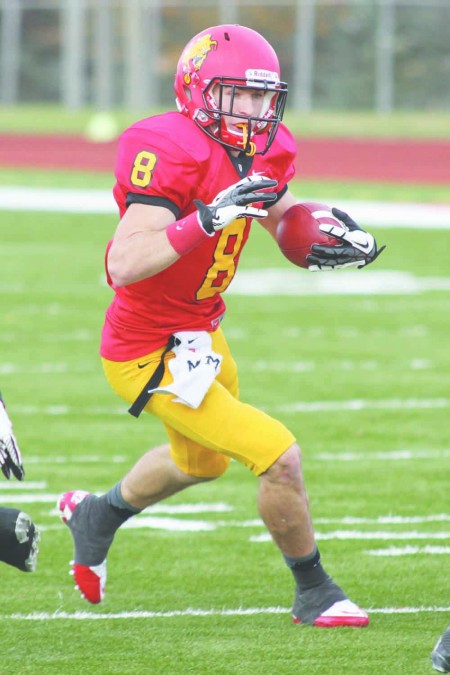 Jake Lampman
Sophomore
Ferris State Football
Michigan Tech University expected to best the Bulldogs league leading rushing unit entering Oct. 20's match-up as they brought a defense that allowed only 98.8-yards rushed per game.
Ferris delivered Michigan Tech a stifling 56-49 defeat.
Redshirt freshman Jason Vander Laan, under the direction of Anese and the coaching staff, made the decision to utilize the Bulldogs receivers.
Vander Laan found sophomore wide-receiver Jake Lampman 10 times for a collegiate career high 239-yards and two touchdowns against Michigan Tech.
Lampman now leads the Bulldogs squad in receptions and ground covered through the air with 29 and 541-yards, respectively. He has scored four touchdowns this season.
Lampman has averaged 18.7-yards per catch this year, which has him ranked third in the statistic in the Great Lakes Intercollegiate Athletic Conference through eight games.
He has averaged 67.7 yards per game to date, which places him eighth in the conference.
Lampman may see less of the ball Oct. 27 as the Bulldogs prepare to face the Wayne State Warriors. The Warriors have the third-best passing and total defense in the GLIAC.
The Warriors have kept teams in the league to throwing just 168.6-yards per game and have allowed only six touchdowns scored through the air. Wayne State falters in their rushing defense. The Warriors have given up 12 touchdowns and an average of 167.7-yards rushed in seven games.