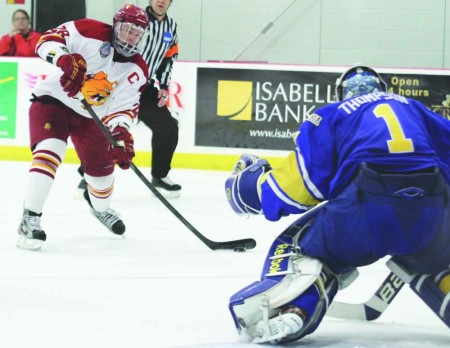 Kyle Bonis
Senior Left Wing
Ferris Hockey
Kyle Bonis leads the Bulldogs as captain in his last year. Bonis, a native of Ontario, heads home each summer to stick to a six day weekly training regimine which has allowed for him to see early success each season. A man of many skills, he pursued a career in hockey, from the North America Hockey League in 2007 – 2009 to the 2009-2012 season as a Bulldog at Ferris.
Through six, Bonis has tallied seven points from four goals and three assists.
Bonis ended last year with 19 goals and 11 assists. At this time last year, Bonis only had six points.
In the Bulldogs Central Collegiate Hockey Association opener against Alaska, Bonis scored in the first period during a power play. With the Bulldogs still behind, Bonis took the opportunity to shoot in the second period, providing the Bulldogs a game deciding lead. The second goal was also during a power play.
In the next game, Bonis assisted with a goal in the third period but unfortunately did not lift the Bulldogs past the Nanooks.
The season has just begun with this past weekend being the CCHA home opener. Bonis has many more opportunities in the season to break his own records. Next up is a home series against nationally third-ranked Miami (Ohio) at home Nov. 2-3.