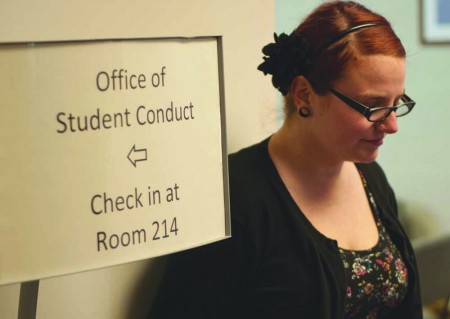 The Office of Student Conduct. The very title may send shivers down the spines of some students. What is this Office of Student Conduct and what can students expect if sent there?
The Ferris website contains the mission statement: "The mission of the Office of Student Conduct is to educate students about their rights and responsibilities as community members, help students understand the balance between individual and community rights, and help maintain a community atmosphere conducive to academic success."
According to Interim Director of Student Conduct Nick Campau, "Ferris State University requires all students to abide by the Code of Student Community Standards. This contains the majority of the policies and procedures that we expect each to student to abide by, it also outlines many of our students rights."
When a student is sent to the Office, they either are facing a disciplinary referral or violation. Campau says a disciplinary referral "takes place when a student, faculty, or staff member sends our office a written fact based statement documenting a situation they believed violated The Code," whereas "A 'violation' occurs after the student's hearing and it is determined that the student violated an University policy (or policies)."
If a student is sent to the Office of Student Conduct, there is a process that they will go through. Campau describes the process in four steps saying:
A. An incident occurs and the facts are documented (typically a police or RA report), that information is sent out of our office and entered into our secure database.
B. That documentation is reviewed and the alleged student involved is sent a hearing notification (hearings are never scheduled during class) via email.
C. The alleged student has the right to both be present or not appear for their hearing. If a student does not appear for their hearing, it will be held in their absence.
D. At the end of the hearing the Hearing Officer determines whether or not the student violated our policy. If the student is held responsible for violating our policy, then an Administrative and Educational Sanction may be assigned.
Students are also guaranteed certain rights when undergoing a hearing at the Office of Student Conduct. These include rights such as the right to a hearing, right to review complaints brought against the student and the right to appeal a decision. Campau states, "We truly want students to know their rights and their responsibilities."
"I've been referred to the Office of Student Conduct before," says Valoree Burns a Junior in Computer Information Systems. "They were nice and made me feel comfortable when I was there. I was really worried at first but the lady at my hearing was really cool and she helped me deal with it."
In the 2011-2012 academic year there were 1,233 reported incidents with the Office of Student conduct. Incidents may involve more than one student at a time. While the Office handles more alcohol violations than any other there has also been an increase in academic misconduct.