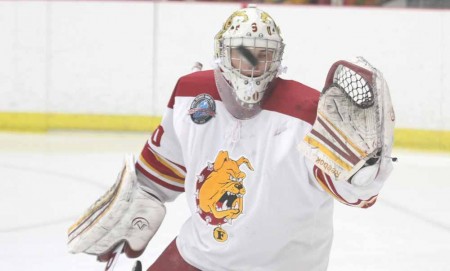 C.J. Motte
Sophomore Goaltender
Ferris Hockey
Sophomore goaltender C.J. Motte had a standout performance with a shut-out game in the series opener against nationally fourth-ranked Miami (Ohio).
Motte's performance on the ice this year has proven to be integral for thenationally 18th-ranked Bulldogs hockey team as they look to make another run at the Central Collegiate Hockey Association championship. His play has helped the Bulldogs earn a 3-3-2 record this season as he has started eight games this year.
A shut-out game is definitely something to be proud of, especially against a team like the fourth-ranked Miami (Ohio) RedHawks. Miami's nationallty 26th-ranked offense was shut down completely Friday night against Motte, who totaled 25 saves for the Bulldogs in their 4-0 defeat of the Redhawks.
Playing in a tough conference like the CCHA that holds a number of great offensive players takes its toll on goaltenders, but Motte is showing no signs of wear in his second season with the Bulldogs.
Motte has been playing solid at goal so far this season with 209 saves and a .921 save percentage; his execution in this CCHA series against Miami (Ohio) was no different. Ferris' defense let up 65 shots on goal in this series which caused the Bulldogs to lean heavily on Motte to thwart the RedHawks.
In this weekend's series Motte racked up 61 saves while giving up only three goals between both games, with all three goals coming in the second game. Even though Ferris split the series after a 2-4 loss in the second game, Motte's performance still shined as he held an impressive .951 save percentage between games.
The Bulldogs will hit the ice Nov. 9-10, hoping to improve their 2-2 conference record. The Bulldogs' next series will be at Lake Superior State, where Ferris' athletes, Motte included, will attempt to continue high caliber
play for added victories. n