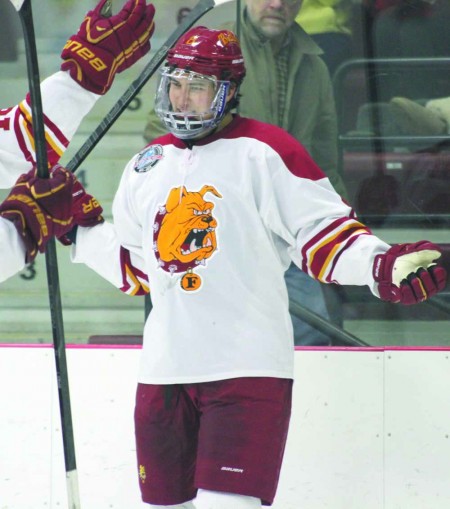 From California to Big Rapids and many places in between, junior center Corey Kane is crucial to the Ferris State hockey team this season.
The Bulldogs, who split this weekend's series against fourth ranked Miami (Ohio), is now 3-3-2 on the young season, and Kane has been one of the main contributors for Ferris this year.
Through eight games Kane has two goals along with four assists to score a total of six points, which is second on the team only to senior forward Kyle Bonis.
"I started playing hockey when I was four years old," Kane said. "At seven years old I played on the California Wave."
The California Wave is an AAA hockey affiliate in southern California, and the success didn't stop there for Kane. For the last five years of his life Kane has played hockey in British Columbia and New England before his journey stopped in Big Rapids.
"It's different in California; it's always warm there. You don't see people wearing camo, and nobody hunts in California. Most people just surf, but since I have been in cold weather places for the last five years I like winter," Kane said.
Even though he's admittedly a quiet and shy type of person, it hasn't stopped Kane from being a key producer for this year's team. He leads Ferris' top few in most of the major offensive categories.
"I listen to music before I go out on the ice and do my normal routine. I ride the bike and do different stretches to get prepared for the game," Kane said. "The difference between this year's and last year's team is that we are very young. Age wise, and even though it's the same system, we aren't playing at that level yet."
Youth is common throughout the Ferris roster this season, but Kane, a business administration major, looks to take a leadership role for the Bulldogs.
To this day, Kane has a role model in his older brother who plays hockey at Merrimack College.
"I've always tried to be better than him, so the competitiveness has always been there," Kane said.
Even with the passion to beat his brother, Kane is doing just fine here at Ferris, as he is now taking an upperclassman role and is on pace to crush his previous seasons of seven and 11 points in his freshman and sophomore years, respectively. The Bulldogs are glad that Kane has been stepping up as of late.
The next time the nationally 18th-ranked Bulldogs take the ice will be in a series Nov. 9-10 on the road against Lake Superior State University.