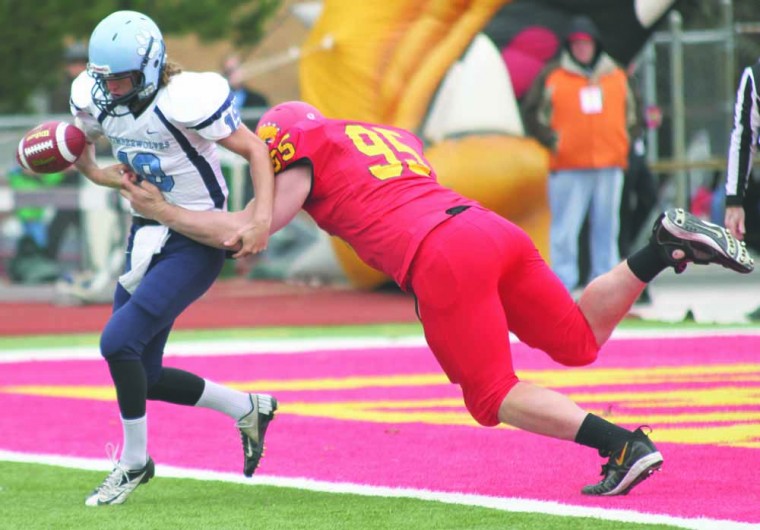 Brad Iskow
Senior
Ferris football
Defensive end
As a three-year starter for the Bulldogs, senior defensive end Brad Iskow compiled a nation's second-best 25.5 tackles for a loss this year. He set his name at the top of the Bulldogs' record book in the statistic by surpassing the prior record set at 24 tackles for a loss.
Iskow, a supply chain and operations management major, led the Bulldogs with 11 tackles, four for a loss, against Northern Michigan Nov. 10.
Iskow added a sack to complete with 4.5 sacks for the season after the Bulldogs defeated Northern 32-31. He earned the Great Lakes Intercollegiate Athletic Conference Defensive Player of the Week for his effort against NMU.
He totaled 64 tackles this year, tallied from 32 solo and 32 assisted tackles.
Iskow said the entire pre-game speech was about love and how people can come together with the power of love to do great things. Annese's speech gave the team the will-power it needed to defeat Northern in the final minutes of Iskow's and the Bulldogs' 16 seniors.
"I think everyone pulled together to give their best efforts for the best of the team," Iskow said. "It was a great feeling to go out with such an exciting win that will stick with me and the other seniors for the rest of our lives."
Iskow hopes he will have a chance to enter an NFL combine after he graduates from Ferris. He has set his focus on the weight room and nutrition now that the season is complete. n