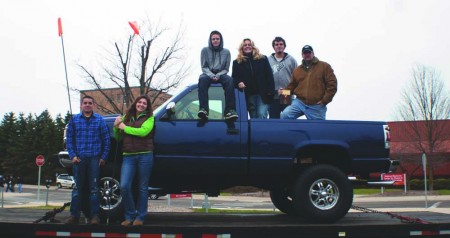 The Torch started an Internet competition in October to determine who had the "sexiest truck" in the greater Big Rapids area.
With over 100 submissions and an audience base of over 650 people, the competition was a massive success.
The winner of the 2012 Sexiest Truck Competition is Kelby Freeland. His friend Trevor entered his truck into the competition because he couldn't—Kelby passed away on Oct. 19, 2012. 22-year-old Kelby Freeland was pronounced dead at the scene after a roll-over crash ejected him from the car he was driving, according to MLive.com. Freeland was picking up two friends who didn't want to take the risk driving. He was being the responsible friend and doing a favor.
Freeland's father Kreigh Freeland, mother Dawn Freeland, brothers Kasey and Korey Freeland, former girlfriend and Ferris student Kristin Otte who is a junior in health care administration and close friend Royce Breight made the long drive from Grant to Big Rapids to claim his prize and keep his truck's legacy alive.
"That truck was his baby," Freeland's mother said.
Freeland's truck was a 1993 Chevy Silverado that he bought at the age of 16 with money he had saved from working on his family's farm. His family estimates that he put nearly $10,000 of his own money into repairs, custom work and enhancements. His truck had a six-inch suspension lift and a three-inch body lift with custom exhaust and paint and hours of blood, sweat and tears.
Freeland's family and friends described him as an avid Chevy enthusiast and said his love for his truck never out-shadowed the love he had for his friends.
Freeland was described as someone who was always willing to help and a fierce protector of the ones he loved. Freeland's younger brother Kasey said, "If I didn't like something, he made me like it."
His friend and former girlfriend described him as "a big ol' grizzly bear with a soft heart." Freeland was willing to go the extra mile for anyone and was always willing to help. Freeland's infectious personality is something that no one could seem to escape.
"You'd meet him, and in five minutes you'd be great friends," Royce said.
Freeland had attended Baker College and was a few credits shy of graduating as a diesel mechanic. He would have started working for DTE in Detroit the week after his life was tragically taken.
"He was always trying to help and look out for others," younger brother Korey said.
Though he may not be with us, his truck, his community, his family and friends are a testament to the quality of his character and the morality of his being. Freeland will be remembered for having "The Sexiest Truck" in this life and the next.
A member of the Kent City Baptist Church, Freeland had a close relationship with God. In his truck's glove box he kept a copy of the Bible bound in hunter orange. His friends and family said he often spoke of God and his faith to others.
"He's looking down on this with a big grin," his mother Dawn said. "He would love every minute of this."