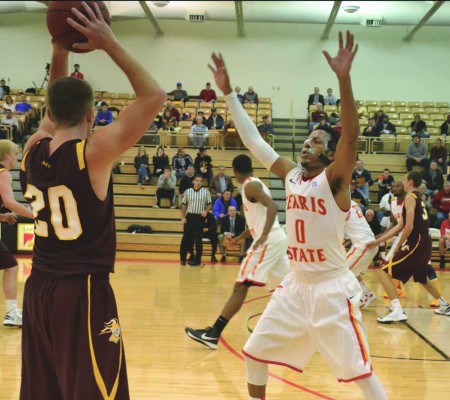 Kenny Brown
Senior
Guard
Ferris Men's Basketball
Senior guard Kenny Brown lit up conference foe Lake Erie in the first conference game of the season. He led the Bulldogs 80-74 in an overtime dismissal of the Storm, scoring a career-best and game-high 31 points.
Brown drained 50 percent of his 18 attempts from the field Nov. 29, while converting four of 12 three-point attempts against the Storm. He also sank 11 free throw attempts and was a deadly 100 percent from the charity line.
Brown led the Bulldogs' decisive overtime drive by nailing a three with 2:30 left and led the thundering charge past the storm by scoring 10 points in the extended session.
He averages 16 points per game this season and leads the Bulldogs with eight steals on defense. Brown is ninth in scoring in the Great Lakes Intercollegiate Athletic Conference.
Brown and the Bulldogs will await two visiting Ohio schools from the GLIAC for their first home conference games of the season. n