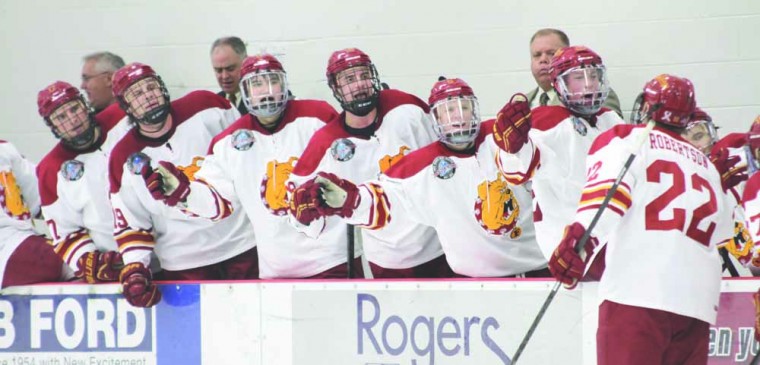 The race in the CCHA is starting to heat up, and the nationally 17th-ranked Bulldogs put themselves in excellent position after earning four of six possible points this weekend against the University of Michigan.
In the first game of the showdown, the Bulldogs routed the Wolverines by a final score of 5-0, and were led by 27 saves from sophomore goaltender CJ Motte in the win.
In front of a sold out crowd of 2,193 fans, the Wolverines were held without a goal for the first time this season.
"We're getting better every day. Even though we are young, we are learning from tough series and getting contributors from everywhere," Ferris senior forward Kyle Bonis said.
After a scoreless first period, the Bulldogs utilized their power-play opportunities in the second period for three goals and outshot Michigan 17-4.
Sophomore defender Simon Denis and senior wing Eric Alexander started the night off for the Bulldogs with two power play goals in the second stanza of the game. Freshman forward Matt Robertson scored his first collegiate goal when fellow freshman center Kenny Babinski slid a pass behind Michigan's defense.
Ferris took a 3-0 lead into the third and didn't stop, as freshman forward Dakota Klecha tallied his second goal of the season to give the Bulldogs a 4-0 advantage.
For the final goal of the game, junior wing Garret Thompson potted his first shorthanded goalof the year.
"I thought we played really well this weekend. On Saturday they got a little bit of a quick start on us, but it showed a lot of character that we were able to battle back and earn that extra point," Bonis said.
The second game in the series began with a Ferris goal, as sophomore defenseman Jason Binkley scored his first goal of the year only 42 seconds into the game for an early 1-0 lead.
During the middle of the first period, Ferris' worst nightmare came alive when Michigan added three goals in a three-minute span to give the Wolverines a sudden 3-1 lead.
Bonis helped put Ferris back in the game, as he scored one in the second and third period, which tied the teams up at three with six minutes left to play.
Neither team converted in the remainder of regulation. Michigan earned two league points in the shootout victory, while Ferris preserved a four-game unbeaten streak.
The Bulldogs will take their 6-3-1 conference record to Kalamazoo Dec. 7-8 against Western Michigan.
"Western has a good team with tons of talent, and we need to follow coach's defensive game plan because the environment is crazy; the fans are right on top of you. We need to manage our emotions and continue to get better," Bonis said.