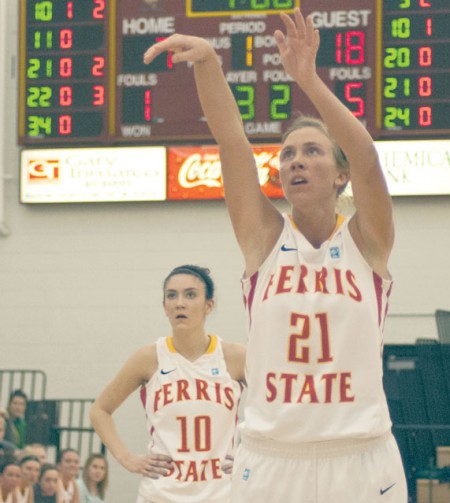 Ferris has won eight of their last 10 games against Great Lakes Intercollegiate Athletic Conference (GLIAC) teams, with a six-game winning streak mixed in the results.
The Bulldogs, led by first-year Ferris Head Coach Colleen Lamoreaux-Tate, look to stay on top in the GLIAC North Division after a comeback win against division foe Northern Michigan University.
The streak was ground to a halt after a 60-46 decision to Michigan Tech, but the Bulldogs would bounce back with a comeback win over Northern Michigan.
Within the first 10 minutes of the matchup against NMU, it seemed as though the Wildcats had the upper-hand, as they led 18-7 within the first quarter of the game as the Bulldogs struggled shooting the ball.
Going into halftime, Ferris trailed by eight points as they headed into the locker room after scoring only 15 points in the entire first 20 minutes.
"At halftime it [the message to the team] was not nice," Lamoreaux-Tate said. "You give them all the tools, they know what to do and it's time they have to do it."
Ferris came out in the second half guns blazing, scoring 32 points to eventually take the lead 47-44 with less than a second remaining in the game.
The Bulldogs' zone scheme worked as the Wildcats were allowed to sink only a layup as time expired to an explosion of cheers from the home crowd.
"Every win is a big win," junior guard Ashley Rando said. "But this one was special because it just shows that we can fight back from a loss."
Rando leads the team with 33 steals, while logging 363 total minutes played this season, which is second only to junior point guard Sarah DeShone.
"This team takes a lot of pride in each other," Rando said. "We will not stop fighting until the horn blows and zero is on the clock."
The win against the Wildcats would reclaim the No. one spot in the North for Ferris, as the game held a lot of similarities to another recent last-minute win: a shootout against conference newcomer Malone University three games before.
Tight game or not, the players and coaches alike know a win is a win, no matter the score.
"We are always going to play to our fullest no matter the circumstances," sophomore center Hannah Hoffman said. "We've become so close as a team, and our chemistry is on point and that's what truly makes a difference."
Hoffman has been an important cog in the machine that is Ferris' team, holding a .468 shooting percentage and leading the team in rebounds with 83, which is ranked 19th among all GLIAC players.
Lamoreaux-Tate stepped in as head coach for Ferris this year, and in her first year looks to defend the top spot in their division; not bad for someone who was coaching high school basketball only a year ago.
"I love it," Lamoreaux-Tate said about her transition to coaching at the collegiate level. "It's easier coaching a bunch of athletes because you give someone a game plan and they are athletic enough to do it."
Ferris heads to face division contender Northwood University Jan. 17 at the Bennett Center Arena in Midland.