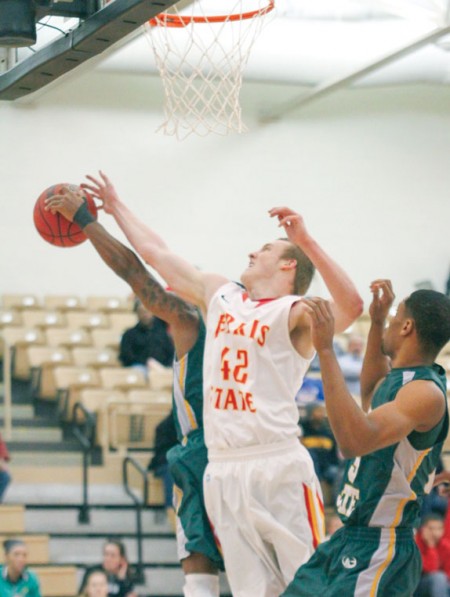 Trent Messer
Sophomore
Ferris Men's Basketball
Gull Lake High School
Bulldog sophomore forward Trent Messer has been tabbed this week's Athlete of the Week after his performances cleaning up the boards against Wayne State and Saginaw Valley State.
Messer averages close to five rebounds a game this season for the Bulldogs, but in the last two he nabbed 13 and nine respectively and was the team's rebound leader in both contests.
The coach has also noticed the stellar play by Messer by playing him 33 minutes and 24 minutes in the match-ups this week, which are the most minutes he's played in any game this season, as he helped lead the Bulldogs to victories in the past two games. He also started the past two contests while only starting four other times before this season, as he starts to come on during the later portion of the season.
Messer, the big man out of Richland, disallowed many chances for second chance points for Wayne State and Saginaw Valley State, which turned out to be crucial for Ferris, as it ended up winning both games by no more than four points each.
Of his 22 total rebounds in the past two games, six of them have come on the offensive end while 13 of the rebounds were on the defensive side of the court.
Come check out Messer and the rest of the men's basketball team as they take on Grand Valley State Saturday, Feb. 2 at Jim Wink Arena.