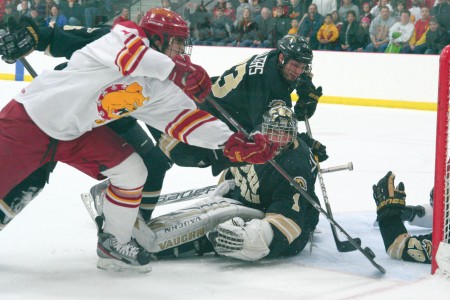 Ewigleben Ice Arena awaits a flood of fans for this weekend's series against Western Michigan.
An opportunity to take hold of the Central Collegiate Hockey Association in the conference's final season is available for Ferris this weekend if they can grab six league points against the Broncos Feb. 1-2.
"There's more to play for than two weekend home games," Ferris junior left wing Garrett Thompson said.
After earning three points in the CCHA in a 3-1 victory over the Irish, Ferris lost its series finale against Notre Dame, 5-2, to split its last season series in the CCHA.
A lack of effort in the second night of the Bulldogs' series against Notre Dame Jan. 26 concerned senior center Travis Ouellette. He thought Ferris could have played a tighter game.
"I don't think we came out with the same amount of heart that we did the previous night," Ouellette said. "I think they wanted it more. We're going to have to come out a little bit harder than we did this weekend."
Daniels blamed Saturday night's loss on a play he drew up which he felt cost the Bulldogs the game.
Ferris has not defeated nationally 7th-ranked, according to U.S. College Hockey Online poll, Western Michigan since the quarterfinal round of the 2010-11 CCHA Tournament Mar. 13 when the Bulldogs lost in overtime, 5-4.The Bulldogs' senior and junior classes have one last shot at taking two games from Western in a regular season.
"We want to pay them back, and what better way to pay them back than to sweep 'em?" Ouellette said. "We feel like we have a great team and we've only gotten progressively better. It's going to be exciting to see what happens."