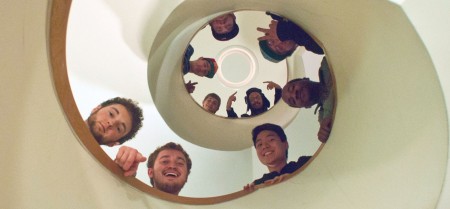 #mogulTALK is a new collective of Ferris creatives looking to share their love of hip hop. Initially imagined as a webshow, the idea has centered around a collaboration album that will showcase rappers and beat-makers from all over campus.  The Torch spoke with music industry management senior and #mogulTALK originator Michael Brown about the album, its upcoming release and what kind of music can be expected when it finally arrives. n
Documentary: #mogulTALK — youtu.be/Fva2Gf7ZeJ4
Single: "In the Morning" remix — youtu.be/V5q0lrW64pQ
Just what is #mogulTALK?
#mogulTALK is a hip hop collaboration album that's going to be released during second semester around mid-March. We're really utilizing all the talent we already have on campus around the music industry management program, marketing, social media, stuff like that. We just wanted to use the resources we already had available to us.
How did it come together; whose idea was it?
#mogulTALK was my idea. I was actually planning to do a webshow during the second semester and the album was supposed to be first semester, but I really focused my attention on the album because I'd like to highlight the artist. It kind of comes in a little bit from last year's hip hop show that Tristarz (Jonathon Horning) did. I just wanted something so the artists could make good music— get on the tracks with each other, complement each other.
What are you goals for it—for everyone to have some good music or to also promote the individual artists and their stuff too?
I would really like some distribution. I'd like other people to hear the music. I feel like the artists up here are so limited to this location that we can really push them out to different states and cities and everything; try to get some people national exposure. Just bring more attention to Ferris and the artists we have and the producers.
If you were going to sell someone on #mogulTalk, how would you sell it, or what kind of people would you sell it to?
I would say if you like hip hop at its core, good lyrics, slick wordplay…
So like pure hip hop; smart hip hop.
Yeah, not all the fluff that's involved in hip hop today, you know?
You said mid-March for a release date?
Yeah, we're looking at mid-March right now.
Are you going to be releasing any singles?
We do actually have one promotional song out right now with Kabare (Patric Germay), Todd Mitchell and Big Kay (Kay Rhoma). It's a remix of a Kendrick Lamar song. We've got another promotional remix coming out, and then we plan to release about two to three singles before the album drops, and there'll be a few videos.
Who are all the people involved? You've mentioned a few already. Or even, what areas of campus are they from? You've got some MIMA people.
Yeah, we've got a lot of MIMA kids. Zach (Rokosz) is a finance kid. I've got some hospitality students helping out with some of the events.
Did I see a couple automotive guys in there too?
Yeah, we do have one automotive kid. He's a rapper in the nighttime, automotive in the daytime. We try to pull from everywhere. I've got to go see the graphic design groups and some other RSOs on campus so we can get our publicity, social media and everything on a professional level.
Lastly, where did the name #mogulTALK come from?
Actually it comes from "Watch the Throne." It's something Jay-Z said on ["New Day"].