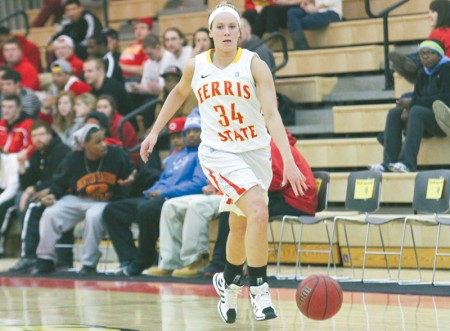 Ashley Rando
Junior, guard/forward
Ferris Women's Basketball
Accomplishments:
Ashley Rando posted a season-high in minutes played against Grand Valley State with 34.
Making the most of her time on Feb. 2, Rando finished with 15 points, four rebounds and three assists. The performance included shooting 50 percent from beyond the arc for the second straight game. Her 15 points were just two away from her season high.
The weekend before, Rando also scored 15, yet was the team leader in points, keeping pace with Saginaw Valley State until overtime.
Rando has started every game but one this season, and she has shot a consistent 42 percent from the field this season.
Rando may not be the tallest on the court, but she does hold the team's single game rebound mark this season with 12 against Cedarville.
Coming off of her performance that kept the Bulldogs close until the end against the Lakers, Rando will attempt to rally her troops for a road trip.
The Bulldogs will head to Michigan Tech Feb. 7 and Northern Michigan Feb. 9.