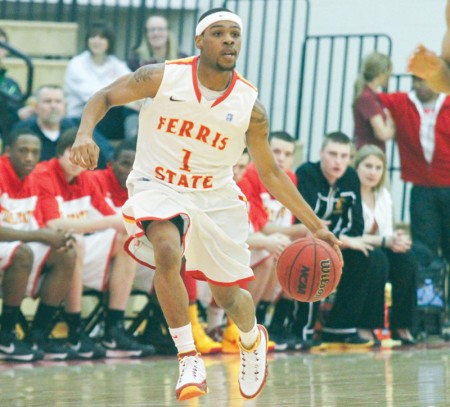 Dietrich Lever
Sophomore
Ferris Men's Basketball
Accomplishments:
Dietrich Lever led Ferris State behind the arc during the Bulldogs' trip to the Upper Peninsula over the weekend.
Lever shot 100 percent from three-point range, while draining two threes against Northern Michigan in the Bulldogs' 11th-consecutive victory over the Wildcats.
Lever also made six of his nine attempts, 67 percent, from the field and sank two free throws in the final seconds of the game to defeat Northern Michigan 69-63.
Lever scored 16 points, with two steals and four assists against the Wildcats.
Since playing Northern Michigan at home, Jan. 10, Lever has limited his turnovers to just seven in eight games. Lever has 29 assists in the same time frame, for a 4.14 assist to turnover ratio.
Prior to the bout with Northern Michigan, Lever scored a squad-high 12 points in Ferris' 64-55 loss at Michigan Tech on Feb. 7. He shot 50 percent from three, making two of four attempts to lead the Bulldogs in efficiency behind the arc.
Lever found his way to the charity stripe and made four of six free throw attempts against the Huskies.
Lever and the Bulldogs look to extend their eight-game home win streak inside Jim Wink Arena as they prepare to face Northwood University Thursday, Feb. 14 at 6 p.m.