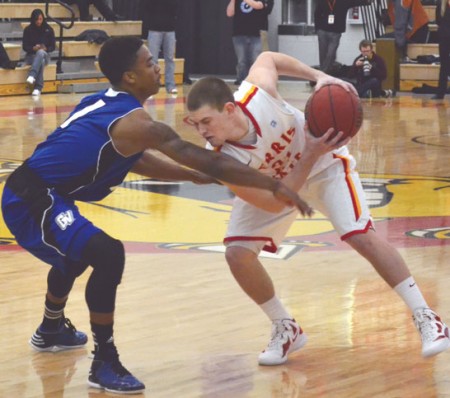 Ferris State University split two away games before hosting back-to-back division opponents as it looks to extend its home winning streak and compete in its conference.
The Bulldogs (12-9) sit in the middle of the pack when it comes to conference rankings after winning one and losing one away from home.
Ferris has won only three of 10 away games this year, but is still in contention for home-court advantage in the first round of the Great Lakes Intercollegiate Athletic Conference (GLIAC) Tournament.
This is due to an impressive home winning streak that was extended to eight games following the defeat of division rival Grand Valley State University.
Following the Grand Valley win, the Bulldogs would then travel to the Upper Peninsula to play Michigan Tech and Northern Michigan, hoping to make a run in the North, which is still possible for Ferris at this point in the season.
Against the Michigan Tech Huskies, Ferris fell behind early as the scoreboard read 11-2 after the first five minutes of play.
"We couldn't make shots that we usually do," Ferris sophomore forward Trent Messer said. "They got off to an early lead and we had trouble putting together enough plays to take control."
The Bulldogs would never claim the lead as they struggled to contain the Huskies' star forward and conference leading scorer, Ali Haidar, who scored 27 points and grabbed 17 rebounds.
Ferris would have a chance to rebound after the tough loss as it headed to Northern Michigan University to play a Wildcats team that won only four games this season and sat at the bottom of the GLIAC North.
The Bulldogs would come out with the energy that was absent against Michigan Tech, as they racked up an early lead, scoring 11 points before Northern could sink one shot.
Even though the Wildcats would hang around on the scoreboard, Ferris eventually took the contest after a score of 69-63.
Ferris now hosts back-to-back GLIAC North opponents in Northwood and Lake Superior State, as it shoots for home-court advantage in the post season.
Getting a home game in the first round of the GLIAC Tournament will take a lot from the Bulldogs this late in the season, but the team has the will to win as they look to close out the season strong.
"We know we can beat any team in this league," Ferris senior forward Daniel Sutherlin said. "If we keep focused and do what we need to do to win, then it will put us in a good position for a first round home game."
Sutherlin is one of only two seniors, the other being shooting guard Kenny Brown, who hope to lead the Bulldogs to another set of home wins and extend the home winning streak to 10.
Ferris State hosts the Northwood University Timberwolves Thursday, Feb. 14 at the Jim Wink Arena. Tip-off will be at 6 p.m.