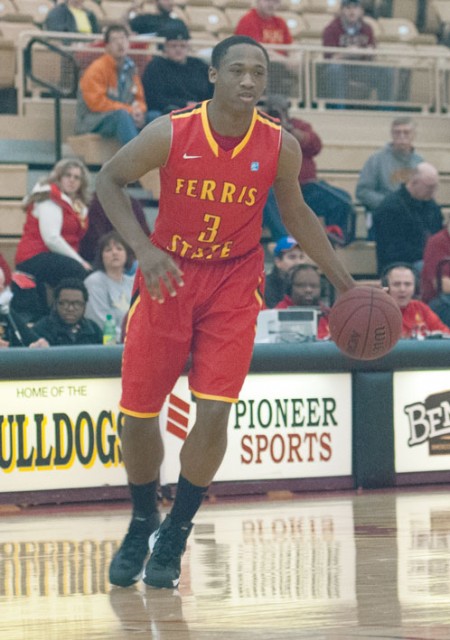 Josh Fleming
Freshman, Guard/Forward
Ferris Men's Basketball
Josh Fleming exploded for the Bulldogs, as the basketball team has now won 10 consecutive GLIAC conference home games.
Fleming had a career high in points against Lake Superior State, as he recorded 30 minutes of playing time and scored 20 points to help guide the Bulldogs to a
victory.
Fleming went eight for nine (89 percent) from the field against the Lakers and was perfect from behind the arc, shooting two for two on three-point attempts.
Fleming's jump shot was on target, with his only miss of the evening a lay-up.
Although he connected on four lay-ups during the contest, his three-point shot eventually crippled any chance of a Laker comeback.
Fleming also notched five rebounds, three assists and a block for the Bulldogs en route to a 63-54 victory.
After the Bulldogs fell behind in the first half, Fleming scored 14 points in the second half and failed to miss a single shot, going six for six in field goal attempts during the final half.
Fleming led the Bulldogs in points and rebounds for the first time this season. He held the game high in both statistics for the Bulldogs.
Prior to this game, Fleming averaged only 2.47 points per game and had scored only 42 points on the year. He raised his average to 3.44 points per game and now sits in seventh in total points for Ferris.
Fleming and the Bulldogs have won six out of their last seven games, and will travel to Wayne State Feb. 21 for a rematch of a double overtime thriller that occurred earlier this year. Following Wayne State, the Bulldogs have their final home game of the season Feb. 23 against Saginaw Valley State.