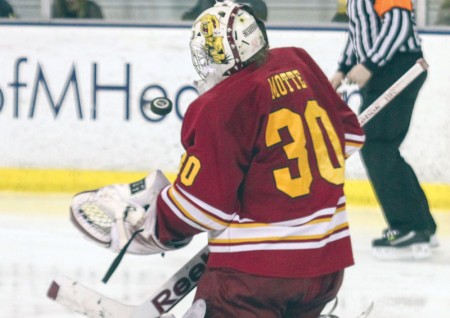 CJ Motte
Sophomore
Ferris State Hockey

Accomplishments:
Motte saved 68 out of 73 total shots in the Bulldogs' last series against the University of Michigan, sporting a .932 save percentage on the weekend.
In the second game of the Michigan series, Motte had arguably his best game of the season against the Wolverines, who are second in the conference in scoring, allowing only one goal on 36 shots, battling the Bulldogs to an over-time draw.
The Port Huron native is currently in his second season with the Bulldogs and has improved on all of his statistics from his freshman campaign.
In just over 1,900 minutes in goal for the Bulldogs this season, Motte sports a .927 save percentage and 2.17 goals against average. He has totaled 878 saves in 32 games played this season.
Recording a 14-13-5 record for the Bulldogs this year, Motte holds the third best save percentage in the CCHA.
Motte leads the CCHA in minutes played during conference play and is second in the conference in shutouts with three. He will lead the Bulldogs to the CCHA Quarterfinals where Ferris will travel to Ohio State on March 15. The winner will face the Miami Redhawks in the CCHA Semifinals.