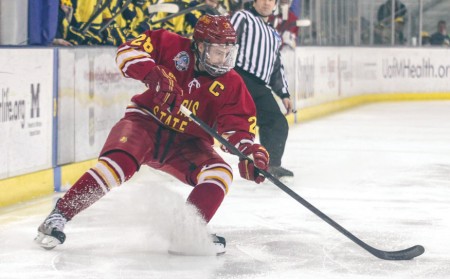 Radical adjustments to Ferris State's line-up early in the year pegged the weight of an entire season on the shoulders of Ferris' healthy and experienced upperclassmen.
 
Ferris captain and senior left wing Kyle Bonis calmly accepted his role as leader by maintaining a level head with the help of his line mates, a young motivated group of skaters to aid in Ferris' voids, and sophomore goaltender CJ Motte as body guard of the goal line, to lead Ferris (13-12-3-1) to a fifth-place finish in the CCHA's final regular season.
 
"He is a very calming influence on the bench. He is a very effective leader on a team that is very young," Ferris hockey head coach Bob Daniels said.
 
Bonis leads the squad with 17 goals this year. He is ranked seventh nationally (U.S. College Hockey Online) with seven goals pounded past opponents on the power-play.
 
"The heart of [his leadership] is what he gets accomplished in practice. There's nobody that has worked harder than him over the last four years," Daniels said.
 
Ferris added eight freshmen this year to replace eight graduating seniors who finished their Bulldog career with a CCHA Regular Season Championship and the program's first NCAA Tournament Finals appearance in 2012.
 
This season, the Bulldog roster was devoid of two essential factors to both campaigns, junior assistant captain Scott Czarnowczan and last year's top returning scorer senior center Matthew Kirzinger, due to injuries.
 
"It's really neat to see how a team works, adapts and changes. Kudos to the boys; without them, we wouldn't be where we are today," Kirzinger said. "Hopefully we can go deep in the playoffs."
 
Now, Ferris State has a line-up with Kirzinger and Czarnowczan back in participation, primed for the quarterfinal round of playoffs.
 
Czarnowczan gladly reclaimed a role on Ferris' defense. Last season he helped lead Ferris in most blocked shots by defenseman, and he hopes to continue cutting off opponents' passing lanes during the upcoming playoffs series against Ohio State.
A best-of-three series awaits the Bulldogs and Buckeyes. Each team will have their last jab at attending the St. Joe Louis Arena, depending on the results of the series.
 
Ferris' four seniors, the only athletes left who have played in the arena, competed there four years ago in 2009-10.
 
In the conference, Ohio State and Ferris are tied for scoring defense with 2.25 goals allowed per game. OSU holds a slight edge in goals scored per game, 2.54 compared to Ferris' 2.39.
 
The Bulldogs have the second-best power-play and are fourth in penalty-killing in the league.
 
"We're a smaller school. We're not going to get any calls. We don't expect to get any breaks; we're going to get beat up and we're going to have to take and battle through that," Kirzinger said.
 
Czarnowczan said Ferris' forwards were able to speed past OSU's sluggish defense in their past series and believes their effort will help the Bulldogs most offensively.
 
"We have skilled players, but it's going to be the heart that wins," Kirzinger said.
 
The best-of-three series will begin March 15 in Columbus, Ohio.