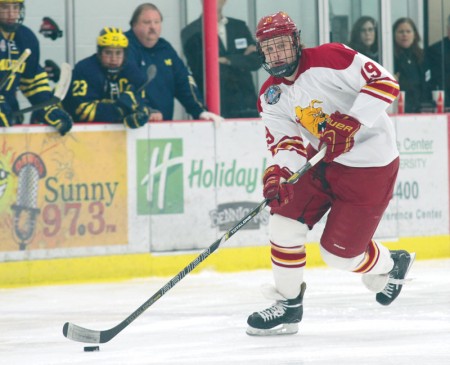 Justin DeMartino
Junior, forward
Ferris Men's Hockey
Accomplishments:
The Ferris State Bulldogs may have been eliminated from the 2013 College Hockey post-season, but the light shone bright on the future of their hockey team.
Justin DeMartino, a 6'4" junior forward out of Macomb, imposed his will on the Ohio State Buckeyes during their CCHA Playoff series March 15-17.
DeMartino's presence was most felt in his two-goal effort in game one. DeMartino scored back-to-back goals, the first of which being the game winner.
Despite the loss in game three, the Bulldogs fought hard, tallying 49 shots on goal. DeMartino was again a factor in game three, peppering Buckeyes' senior goaltender and CCHA Player of the year finalist, Brady Hjelle, with four shots.
DeMartino started the season hot, but was hampered by injuries through the middle part of the season. He was able to play through the pain, missing only three games, which allowed him to finish with a career best 16 points in the 2012-13 campaign.
One for the clutch, DeMartino was tied for second on the team this season in game-winning goals with two.
DeMartino will be a large factor in next season's hockey team that expects to return 20 players.