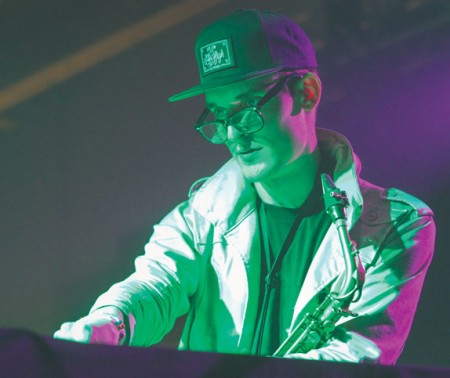 April 4, GRiZ, aka Grant Kwiecinski, a 21-year-old producer from Detroit, came to Ferris for Turn Up the Good 3.0.
The Torch got an exclusive interview with GRiZ, finding out where his inspiration for music comes from, how he got his name and his love for the saxophone.
Q: What inspired you to go into making music?
A: Watching tons of "Fantasia" as a kid on VHS, I started getting obsessed with instruments, funk, soul and classical music.
Q: Where does your inspiration come from?
A: Traveling, seasonal changes, friends, records, just random stuff.
Q: How long have you been playing the saxophone?
A: I had started playing sax in fifth grade. I originally chose the obo and then chose to play the sax. I thought it would be a cool thing to do. I got more into understanding playing jazz instead of just listening to it.
Q: What are some well-known places you have performed?
A: I've played in every state except for Alaska. This tour is the start of my first tour and headlining our own shows. It's been great. It's an amazing ride.
Q: How did you come up with the name "GRiZ?"
A: GRiZ was a name my friend Josh Schomet gave to me drunkly one night coming home from partying at MSU.
Q: How are colleges/universities different compared to other venues, such as clubs? Which ones do you enjoy performing at more?
A: I don't like clubs because I'm not a DJ. Playing at colleges is awesome because typically there are a lot of people that come out who have no idea who I am and get a chance to become new fans.
Q: What advice would you give to aspiring artists?
A: Listen to the music you love. Make the music you want to make. Make it personal and make it your own. Give it emotion; make sure you write music with intention.