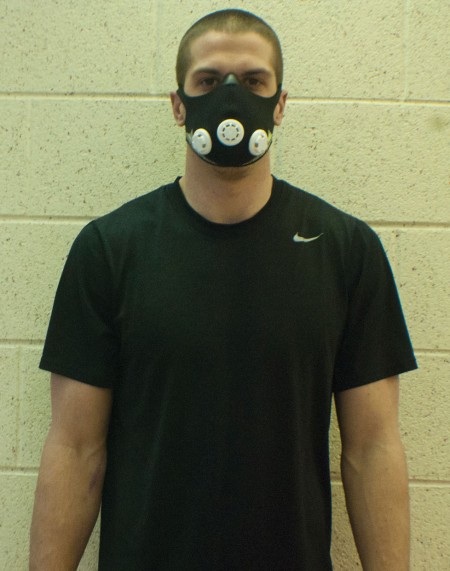 Nichole Boehnke
Guest Reporter
Four days a week the football team wakes up at 6:30 a.m. for a tough workout before beginning the daily grind of classes and homework.
Spring season for the Ferris State University football team was expected to be hard. Something is different this year, though. They were lucky enough to get a large donation of elevation masks for players to use during their winter conditioning workouts.
The masks individually cost around $80. The elevation masks have been tested and proved to increase lung stamina, resulting in more controlled breathing.
Ferris football head coach Tony Annese tweeted about his excitement for spring ball, saying he is looking for high energy and a higher effort from his players.
The football program finished its 2012 season ranked eighth in the league with a 7-4 record, falling directly behind Hillsdale. In hopes of improving on their record this coming year, they are using the new masks to benefit their spring fitness training.
Ferris freshman corner back Damonta Madden from Grand Blanc said he is enjoying the practices so far. Even though they are early in the morning, he never did get used to so much free time after their 2012 season ended.
The team doesn't use the elevation masks every time they workout, but rather take turns with strenuous workouts and lighter ones to get the full effect out of the masks' changes on the lungs.
"Since the elevation mask helps control breathing, our workouts become much harder," Madden said. "After the workouts they make it easier to run and lift under normal circumstances."
Elevation masks are a type of face mask that are based on a hypoxicator system and cover the nose and mouth to reduce the level of oxygen intake. It is equivalent to exercising in a high elevation area. The purpose is to improve athletic performance, which is why many athletes training for the Olympics and other large sporting events train in areas like the "Mile High City" of Denver, Colo.
The masks were donated by Casey Danford from Cadillac. Danford is the CEO at Training Mask LLC, and he is a Ferris State University alumnus. He also played football for the Bulldogs for four years.
"It was amusing when I saw them workout in the weight room. The masks make their breathing really loud," Leanne Boehm, sophomore on the Ferris women's soccer team, said. "I wonder if it's something that will pick up for all the athletic teams in the future."
Simulated altitude training tests of the elevation masks show improved performance in areas of speed, strength, endurance and recovery. Many professional endurance athletes have become accustomed to train under these circumstances, and the trend for other sports is now becoming more popular. MMA fighters are even beginning to look into and use the elevation masks for their training.
The coaching staff is optimistic about the benefits the masks will bring to the upcoming fall season. Special team's coach Jack Schugars motivates the players and works to keep them focused on what is important.
Schugars said he tries to put special emphasis on the importance of hard work now contributing to more wins against opponents in their spring and fall season games.