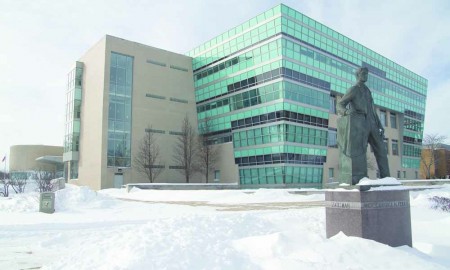 The problem, as always, is parking.
The Big Rapids Community Library renovation project is slated to begin this summer, bringing some changes to FLITE and parking. The $860,000 renovation will improve the weight limitations of a building that was designed to be an elementary school, not a library.
"All of our bookshelves are along the outside walls because our floors are not rated to hold the weight of book stacks, so a lot of the space we have in the library is not usable," Miriam Andrus, the library interim director, said.
After the city council reviews development bids in June, construction should begin soon thereafter and will continue until summer 2014.
But a problem arises in shutting down a library for a year: where to put all 47,000 volumes contained inside.
The Garden Level at FLITE currently houses the Jim Crow museum. However, enough shelf space lies vacant to house the entirety of the community library—every last book, periodical, and movie—with room for a circulation desk to boot.
"As far as I know, they don't have to make any major arrangements or adjustments for us to be moving our materials in there," Andrus said.
Brian Calaghan, Ferris senior in music industry management who frequents FLITE several times a week, expressed concern about the one thing that annoys every last student with a vehicle at Ferris.
"How are they going to monitor parking? Is that going to take away from us as students and our ability to park on campus? Now they're going to have to accommodate outside sources," Calaghan said.
But Calaghan wasn't all concern, however. He saw the upside too.
"I think in the long run, it will bring more awareness to FLITE," Calaghan said.
Andrus assures students, "We want to disrupt Ferris' day to day activities as little as possible. Really, I don't know if very many people will even know that we're down there."
Andrus hopes the move will bring Ferris and the community closer together, not add to the tension that already exists.
"Currently, any student can come with their Bulldog card and check out materials.That includes movies and DVDs. We have the "Hobbit," "Les Mis," and "Skyfall"—all those current movies you'd be getting at the video store we have in our collection. It's free for students," Andrus said.
Andrus is grateful for the help from the Ferris community.
"We really appreciate Ferris' willingness to allow us to move our collection over there. Not only does it help us, but it helps the students," Andrus said.