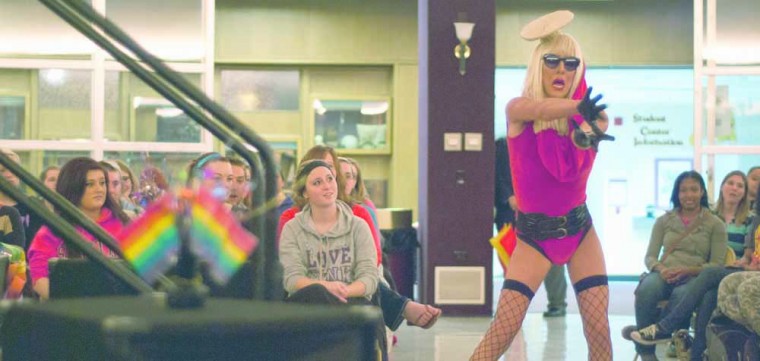 With high hair and even higher heels, Diverse Sexuality and Gender Alliance's (DSAGA) Drag Off blew the roof off the swelteringly hot Rankin Student Center Dome Room.
The annual event had professional drag performers performing with amateurs from on campus, students braving the nerves and the stage to compete for the titles Mr. and Ms. Hot Crimson.
The winner of Mr. Hot Crimson, Ferris freshman (major undecided) Dillon Marcus, commented on what it was like to get up on the stage.
"It was different than performing an instrument because when you're in a band, or even when you're singing, not all the eyes are on you. But when you're in drag, it's completely different. It really is," Marcus said.
The active, expressive crowd cheered on every performer, with extra cheers rising for the precise popping and locking of Carlos Michaels and the Lady Gaga-soundtracked performances of Barbie Dior.
When asked what she enjoyed most, graphic media management Ferris student Morgan Goddard said, "I thought it was really good…I would say the drag kings, they were fun."
That sentiment was shared by many in attendance, made evident by the volume of cheers that went up.
Commenting on the event, Ferris sophomore in journalism Ben Rettinhouse said, "I'm really happy my fellow students could get out like that and show what they had fun doing. I enjoyed the professionals they brought in to MC. They were really funny and had good comic timing."
The high point of the night came from one of those MCs, Diamond Denee, who came out in a glittering rainbow overcoat which, when shed, revealed a half black, half white dress decorated with equal signs and "NO H8."
With Heather Small's "Proud" blasting from the not ideal, yet effective enough speaker system, the crowd exploded.
A question and answer segment wound down the event, with the professional performers doling out advice, information and encouragement; topics such as RuPaul and the mainstreaming of drag, the performers' craft and their motivations were delved into.
Besides offering entertainment, the Drag Off also served as a charitable event. Exchanging a canned good for a ballot, attendees were able to vote for their choice of best amateur performer. The event raised 169 items, which would be donated to the Manna Food Pantry.